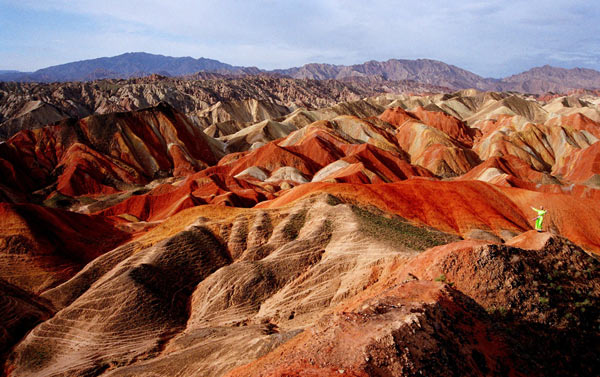 The unique Danxia landform is one of two major attractions in Zhangye, Gansu province. Zhao Junchao / For China Daily
The color and shape of the land itself have defined the people who have lived in China's West for centuries.
Cities have colors. Zhangye has yellow from the Gobi desert and the ancient Great Walls; white from the snowy mountains of Qilian; green from the oasis and an army-horse-breeding farm; red from the unique Danxia landforms and golden yellow for the grain it produces and the ancient Buddhist texts written with gold powder.
The city in the middle of the Hexi Corridor was a western fortress for much of China's history before the Song Dynasty (960-1276). Its name, literally meaning to extend the arms, is an abbreviation of a saying in the Han Dynasty (206 BC-AD 220) about extending the arm of the empire to reach the Western Realm when the city was established.
Zhangye's Danxia landform, formed more than 2 million years ago, is 35 kilometers south of the city and covers an area of about 40 square km. The term Danxia landform refers to the ranges of red glutenite mountains developed through centuries of weathering and erosion by wind and water.
The peaks, in various shapes and hues, stretch along the Heihe River and its branches, between which the Zhangye oasis is perched.
North of the oasis, the mountains stretch neatly with clear ridges inclining to the same direction. To the south, the mountain ridges cross each other and peaks are of different shapes in a variety of colors, including yellow, brown, red and bronze.
The colors change with the light of a day, making the topography seem alive. The landform is said to be the prototype of the Huoyan Hill mentioned in the Chinese traditional literary classic Journey to the West.
Local landscape photographer Meng Xi says: "The best time to catch Danxia's beauty is on a sunny day, especially after a rain."
The Heihe River originates from the snow-capped Qilian Mountains in the northeast of the Hexi Corridor. It not only irrigates 240,000 hectares of fertile farmland, but also provides water to wetlands in the city. Zhangye produces about a quarter of the province's grain, with 7 percent of Gansu's farmland nurtured by the Heihe River.
The wetland is composed of lakes, moors and reed beds across 33,000 hectares in its core area. It's the largest oasis in China's Gobi desert and an important stopover site for dozens of species of migratory birds from Siberia to Central and South Asia.
We recommend: