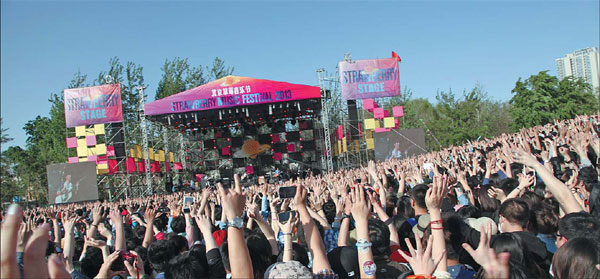 The country's outdoor music festivals are growing rapidly, spreading from the big cities to the second- and third-tier cities. One of the most popular is the Strawberry Music Festival. Xu Xinlei / Asia News Photo
Music industry veteran Song Ke has a new plan to save the business. He is organizing large-scale outdoor music festivals to tour 60 cities around China for a year. Chen Nan finds out the details.
Being a central figure in the development of China's music industry for nearly two decades, Song Ke seems to have a little monster in his head guiding him to make wise decisions. "I am a good foreseer of music market," says the 48-year-old Song with confidence. "When I watch music shows on TV while studying in the United States in 1990, I could tell which song would be a hit and which singer would be popular. Within three months, the news would confirm my judgment."
It could be an inborn talent coupled with his science training at Tsinghua University, which had provided him with sound logical thinking.
In the transforming music industry where traditional market formula is dying, Song has announced a new plan to save it.
Instead of holding an outdoor music festival once a year, 60 outdoor music festivals titled Evergrande Star Music Festival will be held in 60 cities around China from Sept 14 until August 2014.
The plan is this: Two neighborhood cities will have the music festival, one on Saturday and another on Sunday, each with a target audience of more than 20,000.
The first two cities to launch the festival will be Xi'an in Shaanxi province and Zhengzhou in Henan province.
According to Song, the general manager of Evergrande Music, although the tours were solidified early this year, the idea was mooted years ago.
Evergrande Music is a music company under the Evergrande Real Estate Group, one of the country's largest real estate developers.
"I have been researching the Chinese film market for years. What makes the film industry successful with millions in revenues? Even some bad movies sell well," says Song, "because watching films during weekend is becoming a lifestyle among Chinese young people. Why don't we run the music business like the film industry?"
To attract young people back to the music scene without spending too much, tickets for the music festival will be priced the same as the movies in the city - below 100 yuan ($16).
It's a bold idea and Song's friends told him that it's crazy because holding one three-day music festival consumes lots of money and energy, let alone 60.
He is not worried about the money because he has sponsors. What he aims for is to make attending a music festival a habit for young Chinese people, just like watching movies.
Gao Xiaosong, the managing director for Evergrande Music's music department, says among all the forms of products in China's music industry, outdoor music festivals have developed fast and well.
"In the United States, every weekend you can enjoy some musical events at open squares. That is what we need," he says.
"We hope the new way of enjoying music could be healthy and helpful to the development of China's music market."
We recommend: