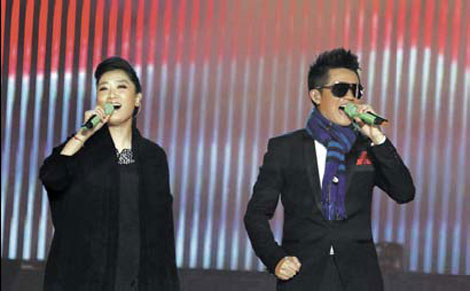 Although considered the most popular Chinese pop duo, Phoenix Legend still has limited international influence. Guo Guoquan / For China Daily
For the first time in 14 years, the global recorded music industry grew in 2012. The International Federation of the Phonographic Industry's annual Digital Music Report announces a rise in revenues by an estimated 0.3 per cent in 2012, to $16.5 billion.
While the worldwide industry celebrates the first year of growth since 1998, Chinese counterparts are wondering when China's recorded music industry will step out of the doldrums.
According to the 2012 Report on Chinese Pop Music Market released by the China Record Working Committee, "the physical market has practically disappeared, while the new digital music market has not given record companies their due shares The traditional recording industry is in great depression."
The report says that the revenue of physical format sales in China has declined 95 percent, from 1.22 billion yuan ($196 million) in 2003 to 60 million yuan in 2010, the latest available statistics.
"The problem with the Chinese recording industry is that the cost of piracy is too low while that of protecting copyright is too high," says Zang Yanbin, president of China Record Working Committee. "That's why capital is reluctant to enter the industry and no good works are coming out."
The Chinese digital music market amounted to 1.26 billion yuan in 2011, with 280 billion units downloaded and streamed. The China Record Working Committee contends that music copyright owners should get royalty of 632 million yuan, but the actual income was only 99 million yuan due to piracy, lack of a fair system of profit distribution, and inefficiency of the collecting agencies.
The good news: More websites are getting licenses and paying royalties. Nine Chinese companies appear on IFPI's list of licensed digital music services - Baidu, China Mobile, China Unicom, Duomi, Kugou, Kuwo, Nokia Comes With Music, Tencent, and Xiami.
Chinese Internet company Sohu and its search engine, Sougou, have just settled a long-fought lawsuit with Universal Music, Warner Music, Sony Music Entertainment Hong Kong, and Gold Typhoon Entertainment.
Their agreement will allow Internet users in China to download and stream music for free from Sougou. The search engine will pay royalties and licensing fees to the four music labels, which will upload their full music collection and upcoming new releases. Chinese search leader Baidu made a similar deal in July 2011.
According to IFPI's Digital Music Report 2013, "the global recorded music industry is on a path to recovery, fueled by licensed digital music services and rapid expansion into new markets internationally". The report didn't probe into the Chinese market, although it says that "markets such as Brazil, India and South Korea are starting to tap their vast potential".
"China has the potential to be one of the leading world markets in music, both because of China's musical heritage and the developing of licensed music websites," IFPI's chief executive Frances Moore says.
By the end of 2012, China had 564 million Internet users, among whom 77.3 percent use online music, according to China Internet Network Information Center.
Although more Chinese websites provide licensed music downloading and streaming, it is still free for Internet users in China to access online music. Websites pay royalties with their incomes from advertisements.
Content holders have been talking with websites as well as service providers to charge for music downloading. So far they haven't reached any agreement, though Zang expects one within this year.
"Payable music downloading will be inevitable in order to support the music industry," Zang says. "Advertisement alone cannot do that."
The China Record Working Committee suggests that 50 percent of income from music downloading go to the music copyright holders, which is lower than in most countries but is more practical for China's environment.
"It feels as if no one is making music in China nowadays," says Zhang Yadong, a music producer who has composed and produced songs for top artists like Faye Wong. "Music makers have to earn their livings otherwise, and all singers perform old songs at talent shows. I believe paid music downloading will encourage music makers to create better works."
On IFPI's chart of global top 10 digital singles of 2012, there are K-Pop star Psy, Brazilian singer-songwriter Michel Telo and Canadian artist Carly Rae Jepsen, showing how the Internet makes it possible for artists to break out of their local markets and achieve global hits.
Although China has the biggest population in the world, the country has not yet produced a singer of global influence.
"Psy's success seems to be a haphazard phenomenon, but it isn't," Zang says. "Behind Gangnam Style are great efforts by the Korean government and music companies to develop and promote Korean pop music. The Chinese government should also try to create better environments for Chinese pop music."
The global music industry has been paying attention to the Chinese environment as well. IFPI, which has 1,400 members in 66 countries, established its Beijing office in 1994.
"China really is a major priority for the whole industry, because we all see huge potential," says Edgar Berger, President and CEO, International, Sony Music Entertainment. "We hope we can unlock it very soon."
muqian@chinadaily.com.cn
By Mu Qian (China Daily)