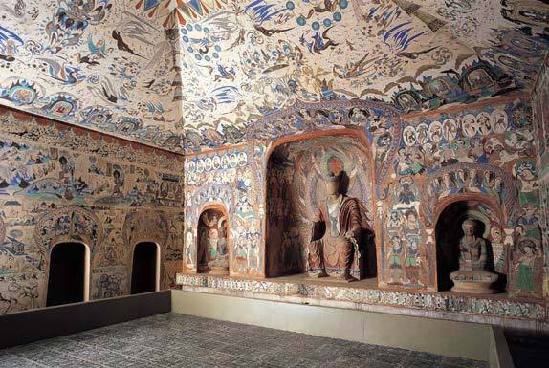 After a trial opening upon its completion at year-end, the Dunhuang Mogao Grottoes Tourist Center will open to the public next May, Fan Jinshi, director of the Dunhuang Academy of China, told China Today in an interview on April 8.
As a member of the National Committee of the Chinese People's Political Consultative Conference, Ms Fan has raised several proposals on the conservation and utilization of Dunhuang – oasis city and main stop on the historical Silk Road. Building a tourist center was one of them.
Conservation versus Utilization
Enabling more people to appreciate Dunhuang's ancient artworks while at the same time conserving and protecting them is among Fan's deepest concerns.
Massive overcrowding during peak tourist season exerts huge pressure on her. After lengthy investigations and research, the conclusions of the Dunhuang Academy, in cooperation with the LA-based Getty Research Institute and the Australian Heritage Council, are that the Mogao Grottoes can accommodate a maximum 3,000 visitors a day. During the 2012 week-long National Day holiday, however, as many as 18,660 visited the grottoes each day, Fan said. They had time only to hear a brief introduction in front of the caves before entering and looking around for a minute or two. Most of their time was spent waiting in line.
Moisture and carbon dioxide emanating from tourists has direct, negative impact on the fragile colors of the caves' centuries-old murals and painted sculptures. And owing to limited space, visitors are distracted from the rare experience of seeing these historical artifacts by trying not to jostle one another.
Taking into consideration the need to conserve this UNESCO heritage site while giving visitors the chance to see it, only 70 caves are open to tourists. More routes are organized at high season, each including representative caves of different eras.
When it comes into operation, the tourist service center will provide visitors with detailed information on the Dunhuang culture. Its dome and digital theaters will also show them the caves in authentic detail, so minimizing time they spend within them. This will relieve pressure on Fan to conserve this precious heritage.
Onerous Task
The new tourist center may reduce human damage, but cannot halt the relentless course of erosion.