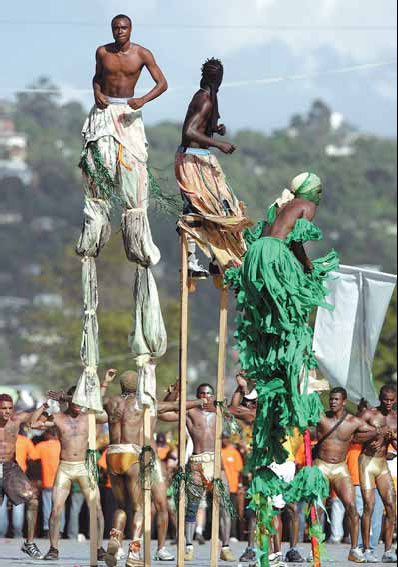 Revelers walk on stilts during a parade at a carnival at Port of Spain. China and Trinidad and Tobago have strengthened their cultural exchanges. Xinhua
The cultural relations between China and Trinidad and Tobago have grown by leaps and bounds in recent years, with an increasing number of exchange visits by art groups and more diversified forms of performances, China's Ministry of Culture said.
Wuju, a kind of opera in Jinhua, East China's Zhejiang province, is one of the favorites of the people of Trinidad and Tobago.
In March, China's Ministry of Culture sent the Wuju Opera Troupe of Zhejiang to perform at the Queen's Hall in Port of Spain.
Yan Lixin, director of the troupe, said their performances were highly praised by Lincoln Douglas, the country's Minister of Arts and Multiculturalism.
"Douglas said he was so lucky to have the opportunity to enjoy the splendid Chinese local opera," Yan said. "He had a meeting to attend on the night of the show, but he enjoyed the Wuju show so much that he left reluctantly at the last minute before the meeting started."
The troupe was not the first Chinese art group to perform in the island country.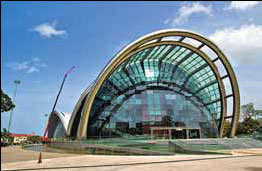 The national center for the performing arts in Port of Spain, which was built with aid from China. Xinhua
According to China's Ministry of Culture, art exchanges have been carried out since the two countries established diplomatic relations in 1974, and in the past, China's acrobatics was commonly seen in Trinidad and Tobago.
We recommend:
Joint Conference of Confucius Institutes in Asia to kick off in Cambodia
Croisements festival offers touch of French culture to Chinese
Chinese culture to be presented around Africa