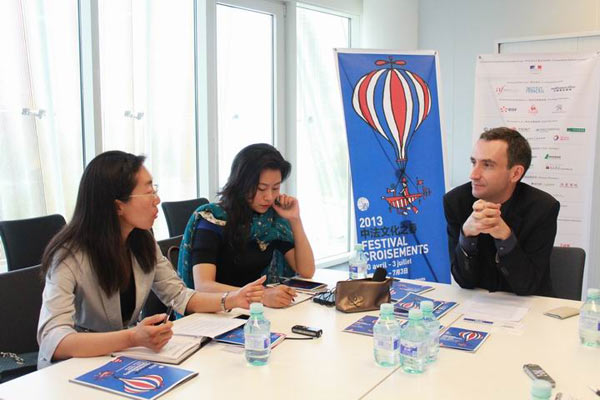 Anthony Chaumuzeau (1st R), counselor for culture and cooperation in the French embassy, gives media interview at the French embassy in China, in Beijing, May 28, 2013.
As a further token of deep friendship between the two nations, France will present to the Chinese audience the excellence of French culture in all artistic disciplines during the three-month Croisements festival, Anthony Chaumuzeau, counselor for culture and cooperation in the French embassy said on May 28.
Since its inception in 2006 after the cross-cultural year between China and France, the festival, formally known as Croisements festival, has grown into the biggest French art festival abroad and also the biggest foreign cultural festival inside China.
This year's festival, which opened in Beijing on April 10 and set to last until July 3, will be the largest since it started eight years ago.
It will offer to the public 77 events, with some 160 performances in 23 cities throughout China.
The cultural events will feature art performances and exhibitions in areas such as music, dance, theatre, literature and even circus performing.
"The idea is to give you a touch of what's going on in France in terms of artistic creation. We want to focus on all disciplines, including movies, music, dance, opera, exhibitions," said the counselor during a media interview.
Chaumuzeau highlighted some of the prestigious performances at this year's festival: the classic dance, which is the collaboration between Parias Opera Ballet & the Central Ballet of China; the new way of doing circus in France, not only acrobatic but a mixture of things with beautiful music, dance in an artistic way; the area of visual arts, with grand contemporary exhibitions like "Duchamp in China" and with virtual art like "From gesture to language".
Talking about art creation in France, Chaumuzeau said with a rich culture for centuries, France has a tradition to support artists, creators and creativities.
"Over fifty years, the French government has been very supportive to all kinds of artists, to support creations in all disciplines," he emphasized, adding that as the world is more and more globalized, France is also very much involved in defending cultural diversity.
According to him, with French people appreciating more and more about Chinese culture, the festival also plays a role in making Chinese culture more famous in France as some of the events produced by the festival in China will be presented in France, promoting Chinese contemporary culture there.
The counselor said that as Chinese culture is so diverse, so rich, so different to western culture, it will take time for the French people to know more about China. "France is No. 1 in terms of students going to China, with around 7,000 to 8,000 students every year. "
In addition, more and more French young people are eager to learn Chinese language. "France is a country where you have the biggest number of French students learning Chinese culture. You have universities, business schools, engineering schools offering Chinese language."
Commenting at the end of the interview, Chaumuzeau said the relationship between France and China is very good and very deep in all fields.
We recommend:
Chinese culture to be presented around Africa
Russian film festival opens in Beijing
Chinese Visual Festival opens in London