Chinese Dumpling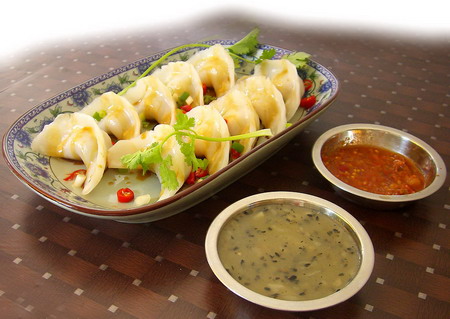 Jiaozi (Chinese Dumpling) is a traditional Chinese Food, which is essential during holidays in Northern China. Chinese dumpling becomes one of the most widely loved foods in China. This is because of many reasons. Here is a list of them.
Chinese dumpling is one of the most important foods in Chinese New Year. Since the shape of Chinese dumplings is similar to ancient Chinese gold or silver ingots, they symbolize wealth. Traditionally, the members of a family get together to make dumplings during the New Year's Eve. They may hide a coin in one of the dumplings. The person who find the coin will likely have a good fortune in the New Year. Chinese dumpling is also popular in other Chinese holidays or festivals, so it is part of the Chinese culture or tradition.
Laobian Jiaozi Guan (Laobian Dumpling Restaurant) is popular in Shenyang.These boiled dumplings come with a variety of fillings, and are typically dipped in soy sauce, vinegar, and garlic.
Source: chineseculture.com
Editor: Wang Moyan