Li River
Overview
The charming Li river, one of the major attractions of the Guilin/Yangshuo region, has been described as "a green silk ribbon with hills like jade hairpins' and is ideal for exploration on a boat. The meandering 65km cruise lasts 5 hours and takes you past a /panorama of bamboo groves, sleepy villages, karst peaks and fisherman on rickety bamboo fafts fishing with cormorant birds. Most cruises go down river to Yangshuo and then bus it back to Guilin, though some cruise begin from Yangshuo and go upriver to Guilin. The Best times are Spring and Autumn; the Summer can be overwhelmingly hot and muggy while the winters have low water levels.
Know more
Originaing in Mao'er Mountain in Xin'an county northeast of Guilin, the Li River winds its way southeast for about 437 km, passing through Guilin, Yangshuo, Pingle, Zhaoping and finally meets Xi River in Wulin. It boasts the largest and most beautiful scenic area in China and attracts thousands of visitors each year.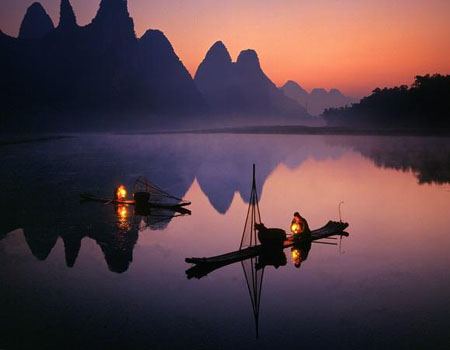 The scenery along the Li River, which snakes all the way from Guilin, will knock you senseless-it's got the Chinese ideal of water and mountains. Farmers, children and water buffaloes are visible along the many river bends playing, washing, collecting water or transporting their day's catch. Fishermen come in teh feathered coat of cormorants, birds perching on their master's bamboo boats waiting for prey. The metal clasped around their neck stops them from swallowing their catch.