Mount Tai
According to the Chinese ancient mythology, When Pangu, the ancestor of all things, died, his head turned into Mount Tai, his belly turned into the Central Mountain, his left arm turned into the South Mountain, his right arm turned into the North Mountain and his feet turned into the West Mountain. Mount Tai thus has become the head of all mountains. As the symbol of China national spirit, Mount Tai is no doubt the most significant mountain under heaven as well.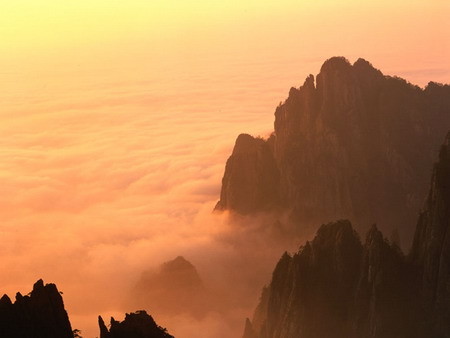 Mount Tai locates in the middle of Shandong province and covers Tai'an city and JiNan city with the area of 426 square kilometers, reaches 1545 meteres above sea level. Mount Taishan was called DaiZong(means the principal mountain of China) before and was renamed Mount Taishan then went by the name of DongYue(the Sacred Mountain of east China) that was ranked on the top of the five most important mountains in China. In Chinese culture, east is regarded as a sacred direction since it is where the sun and the moon rise. The word "tai" in Chinese means stability and peace. In 1987, Mount Taishan was listed as a UNESCO World Cultural and Natural Heritage site and honored "Geopark of the world" in 2006. In China, Mount Taishan is among the first group of "The most important famous landscape of China", the nationwide 5A class touring spot, the top ten best civilized scenery in China.
Mount Tai is well known for its majesty in vigour, grandness in structure, soaring in shy and rooting in terra, broad foundation, steady and massiness. The typical character of natural scenery of Mt. Taishan is splendid, graceful, and spacious. The picturesque of the Mt. is variety with cragged cliff, deep canyon and gorge, astonishing apexes, fantastic rocks, luxuriant vegetation and the stream swift-flowing along with twitter echoing…. The mountain also has the unique marvelous sights as: the rising sun at dawn, the unfurling endlessly sea of cloud and jade like cloud surrounding the summits, the aura of fairy with name of BiXia (means as beautiful as azure cloud), rosy clouds at sunset, etc.
Source: cultural-china.com
Editor: Yang Yi, Wang Moyan