Tianjin's Crosstalk
Crosstalk is a folklore performance with a long history, vast-spreading areas and a profound mass basis.
Although the founding father worshiped by crosstalk entertainers is DongFangshuo, an intelligent in the Han Dynasty, it was actually formed and developed in the Qing Dynasty. In early days, entertainers who made contribution to the formation and development of crosstalk include QiongBupa (ZhuShaowen), WanRenmi and LiDexi who gave performance in TianQiao in Beijing. They created quite a few new stories in their performance, which enriched the content of crosstalk.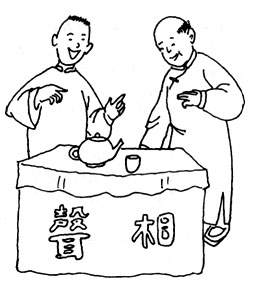 Though crosstalk was originated in Beijing, Tianjin, as a port city, has become a must for crosstalk entertainers because of its proximity to Beijing, which gradually led to the situation that entertainers could perform in Beijing only after they had been recognized by Tianjin audience. Many well-known crosstalk entertainers had been performing in Tianjin for years before they went to perform all over the country. HouBaolin, ZhangShouchen and GuoRongqi were no exception. ManSanli, who enjoys the highest prestige in the circle of crosstalk today, also became famous in Tianjin. Besides, there are ChangLian'an, ChangBaokun, BaiQuanfu, SuWenmao, GaoYingpei, FanZhenyu and so on.
Tianjin functions as a cradle for the upbringing and development of crosstalk though it is not its hometown. Tianjin people are fond of crosstalk for it gives them more happiness and laughter.
Source:mofcom.gov.cn