Unique dances and customs to celebrate lunar new year
CNTV.cn Updated: 2014-02-08 11:18:20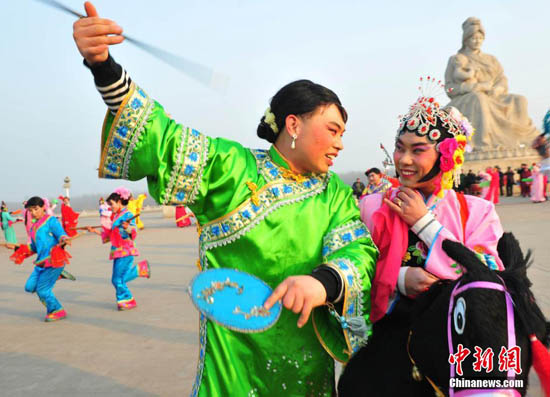 Di Yanko Dance
People are almost through the Spring Festival holidays, but the celebrations are continuing. From the Di Yanko Dance in the north of China, to the Nuo dance and the unique custom of "Datongnian", it's interesting to see how the new year celebrations vary around the country.
In the ancient city of Luanzhou, 200 kilometres east of Beijing, local residents celebrate the Lunar New Year with a unique performance called the Di Yanko Dance.
Luanzhou's version of the dance originated over a thousand years ago, in the Song Dynasty. Over the centuries, it has evolved, adopting elements from different dances and cultures around northern China.
Its current form combines dancing with singing.
"I really like it. It's so much fun," a resident in Luanzhou said.
A member of a local Nuo dance team performs Nuo dance to celebrate Chinese lunar new year in Jiangwan Town of Wuyuan County, east China's Jiangxi province, Feb. 2, 2014. In Wuyuan, the Nuo dance is usually performed on the second day of the Chinese New Year. Dancers wear Nuo masks which represent mythical deities or historical personages and, following simple, rough dance steps, conduct exorcisement while praying for good harvests in the year to come. [Xinhua/Sun Chuntao]
The Nuo dance from the city of Wuyuan in Jiangxi province is one of the first to be listed as a national level intangible cultural heritage.
We Recommend:
Special Coverage: