The White Tiger is one of the Four Symbols of the Chinese constellations. It is sometimes called the White Tiger of the West (西方白虎, Xī Fāng Bái Hǔ), and is known as Byakko in Japan and Baekho in Korea. It represents the west and the autumn season.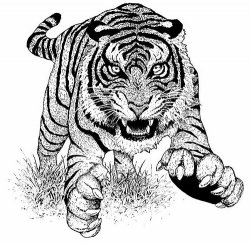 Origin
During the Han Dynasty, people believed the tiger to be the king of all beasts. Legend had it that when a tiger reached 500 years old, its tail would turn white. In this way, the white tiger became a kind of mythological creature. It was said that the white tiger would only appear when the emperor ruled with absolute virtue, or if there was peace throughout the world. Because the color white of the Chinese five elements also represents the west, the white tiger thus became a mythological guardian of the west.
In the novel Shuo Tang Yanyi (Tales of Tang Dynasty), the reincarnation of White Tiger's Star is said to be Li Shimin's general Luo Cheng and the reincarnation of Azure Dragon's Star is said to be the rebellious general Dan Xiongxin. They two are sworn brothers of Qin Shubao , Cheng Zhijie and Yuchi Jingde . Their souls after death are said to possess the body of the new heroes of Tang Dynasty and Liao Dynasty, Xue Rengui and He Suwen .
In some legends of the Tang Dynasty's general Xue Rengui, he is said to be the reincarnation of the White Tiger's Star, and his archenemy, the Liao Dynasty's prince He Suwen is the reincarnation of the Azure Dragon's Star.
Editor: Feng Hui