The Tiger is a natural born leader and symbolizes power, passion and daring.
People born in the Year of the Tiger are generally well liked because of their charming personalities. Often, failing at a given task or being unproductive in his personal or professional life can cause a Tiger to experience a deep depression. Criticism from loved ones can also generate this type of Tiger reaction.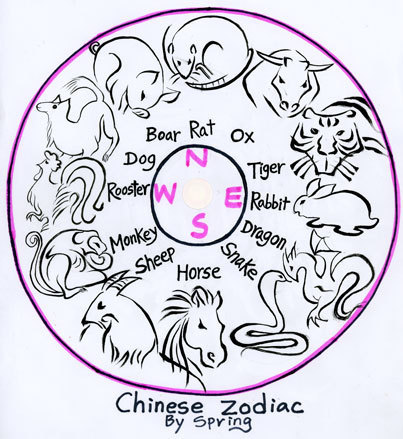 Tigers are fond of competitions. They simply cannot pass up a challenge. They may appear cool and are unpredictable, and it would be unwise to underestimate their reactions. Natural leaders, they have a strong sense of their own dignity. They are intelligent, alert, and farsighted. Good strategists and tacticians, they often have a hidden agenda. As long as they do not risk their luck too often, and keep their restless nature under control, they will enjoy success and happiness.
People born in the Year of the Tiger are straightforward and uninhibited in nature. They will never give up no matter how frustrated they may become. But, they are also full of suspicion and sometimes will take hasty action.
They must be aware of how they react to and are affected by the consequences of their tempers. They should take it a little easier and learn to pace themselves to keep active longer and to prevent early burnout. They are blessed with flexibility and often recover quickly from illness or pain.
Some people born in the Year of the Tiger are gentle and full of sympathy. They are kind, love babies and anything that arouses their imagination. Others can be stubborn and selfish. Generally speaking, people born in the Year of the Tiger are fond of playing, and full of enthusiasm and sentiment. Some are mercurial. They can laugh happily one moment, and cry the next. They will be optimistic, but at the next they will lose their heart totally.
People born in the Year of the Tiger take pride in being different than others, and generally illustrate their originality best in their homes. Their homes are usually filled with exotic treasures. They are fast learners, need challenge and often work alone. Some tend to change careers more often because they get bored easily. They are natural born leaders and perform best if working towards positions of power and influence. They like to spend money, and also to share it. They can be quite impulsive spenders because they know they can always make more.