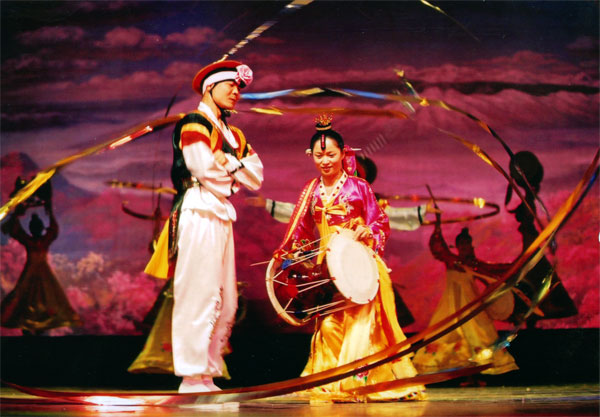 Dancers perform the elephant cape dance. [Photo/jl.gov.cn]
High Sacrifices for the Dance
Because of his love for the elephant cap dance, Jin endured unimaginable hardships and pains that he will regret for the rest of his life. In 1979, Jin represented his township in a county-level cultural and artistic joint performance. When he arrived in Wangqing County, word spread that someone's mother was critically ill. Jin didn't give much thought to the rumors, focusing on the performance instead. Afterwards, he learned it was his mother, and hurried home to find that his mother had died. In 1982, Jin's dance troupe was touring the villages of Jilin Province when his father fell ill. Because communications were poor, his family was unable to tell him and Jin could not see his father before he died. Telling these stories, Jin cannot help blaming himself. "My parents raised me and supported me. It caused me great pain not to have seen them one last time because I was in the middle of my work. However, this pain also encourages me to carry forward the elephant cap dance and I will never let my parents down," Jin said.
Despite his dancing achievements, Jin received little economic benefit. After marriage his life was still difficult. Both he and his wife had low incomes and they didn't have their own apartment. In 1986, Jin was transferred to Wangqing County Art Troupe, with a salary of RMB 60. However, he had to spend one third of this on rent. After becoming a professional performer, he was so busy practicing and performing outside that he could barely take care of the family. His wife had to run family affairs by herself. To earn more income she set up a stall. After a full day of hard work, she had to shoulder all the housework, but always supported him and never complained.
"We lived in rented apartments in Wangqing for four years, during which we moved seven times. We finally had our own apartment in 1990. I considered going to work in South Korea to make life easier for my wife and child. However, whenever I thought about the elephant cap dance, I knew I couldn't live without it, so I never went abroad," Jin recalled. "I really appreciate the support from my family. They have made me the man I am today. However, dancing is also the source of my biggest sorrow of not seeing my parents one last time," Jin said.
Striving for World Intangible Cultural Heritage
From 2003 to 2005, the Chinese government successively launched programs to preserve folk culture and cultural heritage. In 2006, the ethnic Korean farmers' dance was approved by the Ministry of Culture for listing as part of the nation's intangible cultural heritage. In 2008, the dance was nominated for the World Intangible Cultural Heritage list.
When the application was made, there were few written or video records of the dance and too few dancers. In order to support the application, the government of Wangqing County selected 32 dancers from all the farmers' dance troupes around the county to make a video of the dance, and Jin was chosen to direct it. Jin first chose a typical residence of ethnic Koreans as the backdrop. On shooting day, Jin served as both director and performer. Sometimes he wore a traditional Korean costume and explained the dance. Sometimes he wore a performance costume to join the dance with other dancers in the field. The video program was highly successful, and in September 2009, the Korean farmers' dance was added to UNESCO's Representative List of the Intangible Cultural Heritage of Humanity. It is the only Chinese dance to be so honored.
In November of the same year, the Chinese Intangible Cultural Heritage Show was held at the Zhongshan Hall in Taipei, Taiwan. As an inheritor of the national intangible cultural heritage, Jin Mingchun, together with musicians and other performers put on superb shows for the audience. The show lasted for more than two hours without intermission, but the Zhongshan Hall was filled to capacity by an audience that all stayed to the very end.
Recommend: