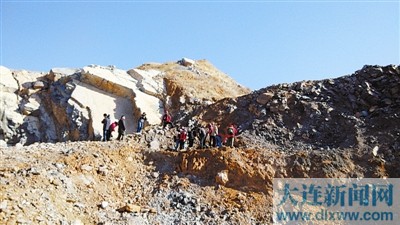 Archeologists work the excavation site at Luotuoshan Mountain near Dalian, Northeast China's Liaoning province. [Photo/www.dlxww.com]
Chinese archeologists have recently discovered an ancient human activity site in Dalian, Northeast China's Liaoning province, making it a major archeological discovery in the country.
Animal skeleton fossils were first discovered at the quarry of Luotuoshan Mountain in Dalian in December 2013, by a retired mine worker named Guo Chengwan. His discovery soon aroused the attention of experts at the Dalian Museum of National History.
After several field investigations, the experts proved that the animal fossils were of great archaeological and scientific value.
A joint archeological team consisting of experts from the Institute of Vertebrate Paleontology and Pale anthropology of Chinese Academy of Sciences (CAS) and the Dalian Museum of Natural History was established in August to carry out a another dig at the site.
So far more than 1000 important fossil specimens and over ten thousand fragment fossil samples have been discovered.
According to the preliminary research, the characteristics of fauna composition at Luotuoshan Mountain site resembled those found at the Peking Man Site at Zhoukoudian in Beijing, another site in China where fossils were found.
The team estimated that the specimens at Luotuoshan Mountain can be traced back to 50,000 or 30,000 years ago.
"We have also found dozens of stone artifacts and objects made of horn, as well as skeleton fossils of large-scale herbivores with human cutting and chopping traces," A paleoanthropologist named Huang Wei told Xinhua. "It proves that the spot was a very important ancient human activity site."
From the evidence collected, experts said that the site might hold the oldest cultural relics in northeast area of China.
Gao Chunling, deputy curator of Dalian Museum of Natural History, said that the discovery of the Luotuoshan mountain relics is of great significance for probing into the evolution of mankind in the northeast area of China as well as the origins of civilization.
Recommend: