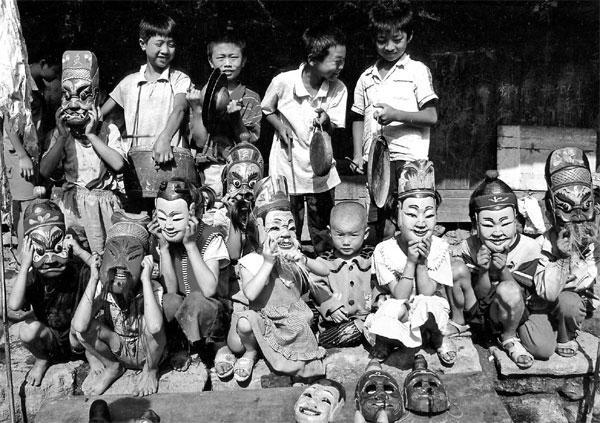 Nuo masks are among the favorite toys of local Tujia children in Ganxi town in rural Guizhou. Photos Provided to China Daily
In the deep valleys of southwest China's Guizhou province the sounds of drums and gongs signal Nuo performances, which are held about 10 times a month to drive away evil spirits and pray for good.
Nuo, which means to exorcise bad, was a popular type of sorcery that can be traced back to the Shang Dynasty (16th century - 11th century BC) or even earlier.
A vital part of Nuo performances is masks that feature protruding eyes and jutting chins.
At first glance, the exaggerated and deformed facial features on the masks look scary, but for Yang Yunxia, a Tujia engraver from Tongren, Guizhou province, the masks represent an inherited folk craft.
Carving masks for Nuo performances was traditionally seen as a man's job because it involves heavy manual labor.
However, Yang learnt the craft and took over to become her family's seventh generation of engravers.
Yang's father said he picked her from his six children as his successor due to her natural carving talent. "She is a quick learner with perseverance," he said.
Yang carved her first mask and sold it for 120 yuan ($19.5) in 2005 after being trained by her father. It took her four days to complete the mask after her first attempt failed.
To date, the 37-year-old has produced hundreds of masks, which are usually the size of a human's face. She sometimes varies the size to cater to market demands, and can make them between one cubic centimeter to one cubic meter.
"The smaller, the more difficult," Yang said, extending her scarred hands.
She said it was more likely that she would cut herself when making the smallest size mask, which would take half a day to finish.
"It tortured me to see her rough hands with scars, but her progress stopped me saying anything," said Yang's husband, who is an art teacher at a local primary school.
He said Yang gradually came into her own style when carving Nuo masks.
She used to depend on her father and husband to draw out features on the masks so that she could follow the draft marks when carving. But she quickly progressed and was able to do it without the help of even a ruler.
"I neither learnt art as my husband did, nor did I have experience like my father, I just carve, following my heart and feeling," she said.
In 2009, Yang was invited by the local tourism bureau to participate in a local folk craft competition and she won the title of top 10 best craftsmen in Tongren region, Guizhou.
We Recommend: