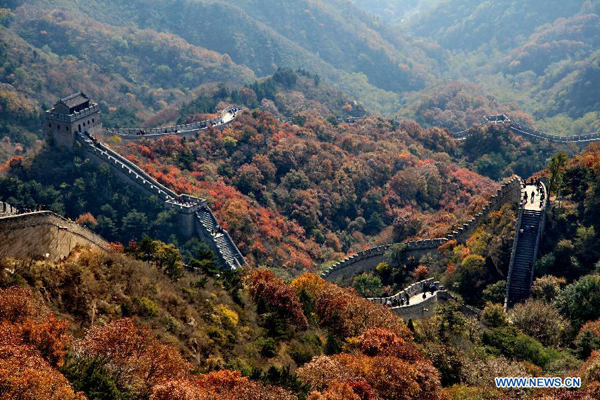 Photo taken on Oct. 21, 2013 shows the scenery of red autumnal leaves at the Great Wall at Badaling, Beijing, capital of China. [Xinhua]
China Culture Relics Protection Foundation established a special fund on Monday in a bid to better finance the protection of the Great Wall.
The fund raised about 18.2 million yuan (2.9 million U.S. dollars) from donations on Sep 1. A committee was set up to manage the money.
Visitors take in the sights at Mutianyu, a famous section of the Great Wall. A special area of the wall has been established for graffiti to better protect the heritage site after media reported that many foreign tourists had carved words on the old buildings. Photo by Chen Yehua / Xinhua
The Great Wall, with a total length of 21,196 kilometers, is one of China's most iconic landmarks.
The aging world heritage site is confronted with pressing challenges including a lack of protection staff and most notably a shortage of renovation money in some undeveloped regions.
We Recommend: