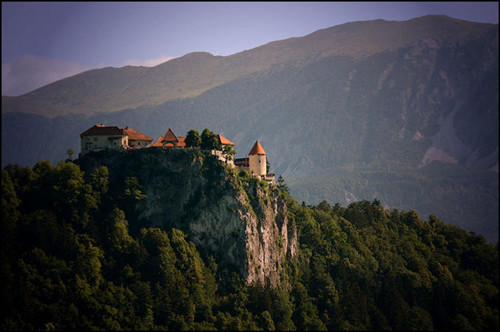 Bled Castle[photo.net]
A photo exhibition featuring the Great Wall of China has turned to be one of the attractions at the Bled Castle, one of Slovenia's most popular scenic spots, according to Bled municipal officials on Tuesday.
Slovenia's Bled Castle, like the Great Wall of China, is an ancient defense system that dates back to around 1,000 years ago.
It is of "special significance" when the oldest castle in Slovenia and the Great Wall of China are presented simultaneously to the public in one place, said Janez Fajfar, mayor of Bled, who visited the exhibition along with Chinese Ambassador to Slovenia Zhang Xianyi.
The photo exhibition, jointly sponsored by Xinhua News Agency of China and the Municipality of Bled, is "a great opportunity to promote the incredible Chinese culture and heritage," Fajfar said.
Perched atop a steep cliff rising 130 meters above the glacial Lake Bled, the Bled Castle has been visited by some 15,000 tourists from all over the world since Aug. 1, Matjaz Zavrsnik, director of Beld Culture Institute, told Xinhua.
Latest official statistics show that Bled attractions receive more than 260,000 tourists per year.
We Recommend: