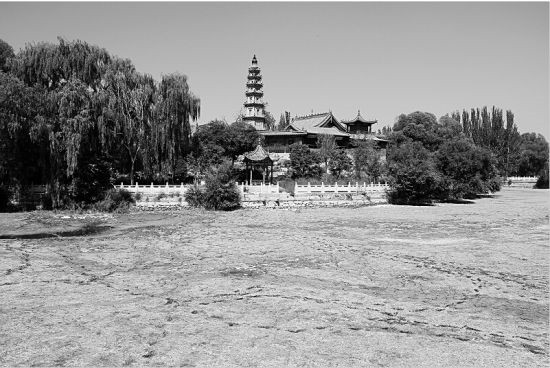 [Photo/jjsx.china.com.cn]
A lake at a cultural heritage site in north China's Shanxi province has become a focus of public attention since it dried up overnight for no clear reason.
Local government has called in experts to investigate the mystery and return the situation to normal as soon as possible.
Located in Guangling County in the northeast of Shanxi, the Temple of the Water God, or Shuishentang, features a Ming dynasty (1368-1644) temple in the middle of a lake which once covered about 24,000 square meters.
The picturesque site has had state-level protection since 2006, but local residents declared online last week that the lake had "disappeared" overnight. It has never dried up before, according to Liu Zhong, head of the site's management office.
Documents released by the local government say the water began to recede around July 10, in the midst of a drought. Now, the lake is nothing more than a small puddle, surrounded by cracked mud and lots of dead fish.
"There used to be water flowing out of the spring all the time," Jiao Xianggui with the county's water bureau told Xinhua.
The difficulties of the temple have crystallized the feelings of local residents.
We Recommend: