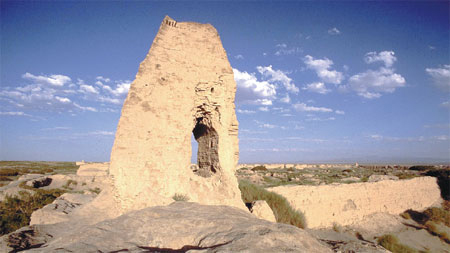 Suoyang City ruins stand in the desert as a witness to the ups and downs of the Silk Road over the centuries. Provided to China Daily
The high steel fence around the castle has been replaced with knee-high steel posts, allowing a better view. "The substitute is rather simple and cheap, but it has been proved very effective," says Cai.
The administration house has been painted with brown earth, which blends with its surroundings.
While severe sandstorms are rare, the fact they can be a threat has led to calls to provide a better environment for the relics. In the Suo-yang City ruins in Guazhou county, the biggest threat is sandstorms.
Next year, the county will invest 2.8 million yuan to develop a sand-blocking dam, put down grass grids and plant more than 50,000 trees near the Suoyang City ruins to conserve water and reduce wind abrasion.
Cai's team has designed a whole defense system specifically for the site, which surrounds the ruins with three layers of plants of ascending heights to slow down the wind approaching the site.
But they need more technicians who can work onsite on a daily basis, says Xie Yanming, head of the management office of the Suoyang City ruins.
"People come and go. Few of them will stay in the desert," he says.
Twenty-eight people were hired in the past six months. Most of them work two or more jobs. The bookkeeper also works as cashier while the tour guides work as receptionists.
"There are too few technicians at the site. If the small problems can be solved in time, the big ones will be avoided," says Guo from the Conservation Institute of Dunhuang Academy.
We Recommend: