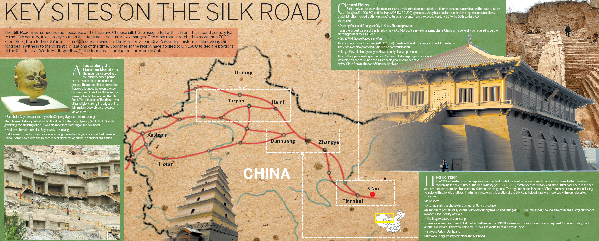 Liu Lunan / China Daily
Ancient city ruins in China's western deserts battle the toll of time as officials and conservators seek to protect and preserve the heritage of the old Silk Road, Sun Yuanqing reports from Gansu province.
The Silk Roads: The initial Section of the Silk Roads, the Routes Network of Tian-shan Corridor has been nominated to be inscribed on UNESCO's World Heritage list. The result of this international application involving China, Kazakhstan and Kyrgyzstan will be released later this week during the 38th session of the World Heritage Committee currently being held in Doha, Qatar. The application included 33 historical sites, which includes 22 in four of China's provincial-level administrative regions: Shaanxi, Henan and Gansu provinces, and the Xinjiang Uygur autonomous region (with exclusion of two sites on the route, which have already been listed as World Heritage sites - the Mogao Caves and Longmen Grottoes) plus eight in Kazakhstan and three in Kyrgyzstan.
The air smells of sand. The sky has turned a murky, reddish color. The wind has become so violent that it is impossible to keep our eyes open or our feet firmly on the ground. The sand, whipped up by the wind, strikes the window sharply. This administration office of the Suoyang City ruins in Gansu province in Northwest China has become a little desert in itself. The only peaceful creature is the white puppy that the staff members have adopted, one of the few distractions they have in the desert.
Scattered through the Gobi desert, the Suoyang City ruins, along with other sites on a network of routes of Eurasian trade and cultural exchanges, has survived sandstorms like this for more than 1,000 years. Once the center of ancient civilization, the Silk Road waystations have been neglected, discovered, excavated and now await rediscovery.
Chinese officials and conservators are taking all kinds of measures to resurrect the route's former glory, in a joint initiative with Kazakhstan and Kyrgyzstan to seek UNESCO's World Heritage status for the Silk Road. The result is going to be announced later this week.
Not only have the relics been preserved, but the site has also been revamped to be more tourist-friendly. China has also launched ambitious efforts to turn the desert into an oasis that will better nurture the relics.
We Recommend: