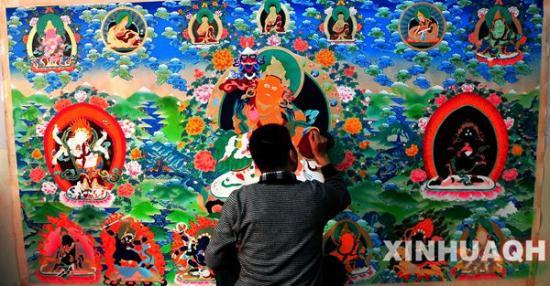 Its Thangka paintings are among the best-known, because of the region's high artistic achievements. (File)
That's a problem Shanghai volunteers are trying to resolve. They are trying to get funds from the Shanghai government to subsidize Thangka students and masters. And they are also finding markets for the old Tibetan art, beginning locally in Xigaze. In September, more than 100 Thangka paintings went on display in Xigaze's Zongshan Museum, which was also built by Shanghai volunteers in 2010. Now, they may go beyond the Tibetan plateau.
Hu Wei, Cultural Protection Expert, said, "We hope that we can get some exquisite Thangkas every year, and then select some to send to Shanghai for a big exhibition. This can also add more ethnic elements to the Shanghai cultural market."
Hu says he plans to collect about 200 high quality Thangkas by next June and then exhibit them in July in Shanghai before selling them at an auction. But first he says the Shanghai Cultural Heritage Bureau will pay for buying some Thangkas from the painters in order to support them financially, and maybe try to get the masters to leave Tibet for the first time to visit big cities.
"If our work can be put on display, I believe many people will come to buy it, so we can earn more. I hope they can be displayed in more places, as I haven't been to places outside Tibet." Thangka Painter Hrida said.
Hu says they will try to help Thangka masters to go to more places in Yangtze Delta region to show their work, and says there's a big market potential there.
"We will not only help Thangka masters and their students financially, we will also try to make Mentang Thangka more influential in the market, to help promote and protect the culture." Hu said.
We recommend: