China, for the first time, had a formation composed of foreigners for its National Day celebration parade since the founding of New China in 1949, a sign of its increased openness to the outside world.
A total of 181 foreigners from 53 countries participated in the parade. Dozens of foreigners wore Chinese-style dresses or their national costumes on the float themed "One World", and others marched in T-shirts with "I love China" on them and waving China's national flags.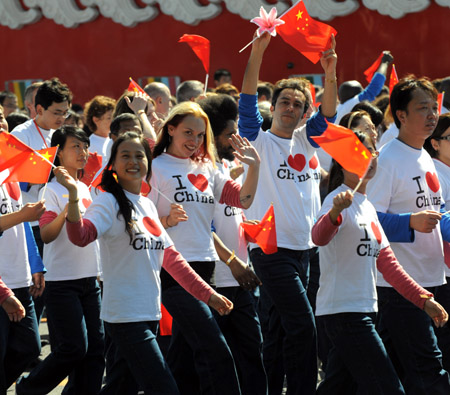 Of the 155 paraders, 97 were overseas students studying in Beijing and the remaining 58 were mainly foreign experts and representatives from foreign companies.
The formation aimed to tell that Chinese people were praying for world peace and development, along with people from the rest of the world, organizers said.
Michael Crook, a British man who was born in China and runs an international school in Beijing, said in fluent Chinese, "I am excited when invited to take part in the parade for such a special day in China. I used to be an audience, but today I am part of it."
"It is once in a life time thing," he said, adding the change about the parade demonstrated China's openness to the world.
Editor: Liu Fang