Prelude: cultural exchanges with other countries in the early days of New China and during the Cultural Revolution period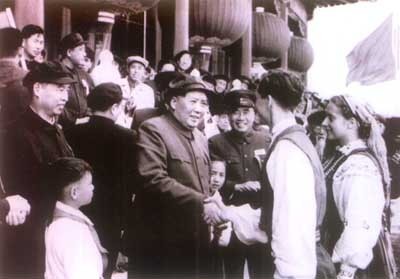 In 1953, Mao Zedong met performers from Poland on the Tian An Men rostrum.
In the first three decades following the establishment of New China in 1949, China's cultural exchanges with the outside world were largely government dominated, with priority given to relations with socialist countries, developing countries in Asia, Africa and Latin America, and some western countries. Cultural exchanges in this period, including performances, exhibitions, film weeks, commemorations of cultural celebrities, national art festivals, and exchanges of visits of cultural delegations, exerted positive contributions to enhance people of other countries to better understand China, and expand the influence of New China.
In 1945, Comrade Mao Zedong pointed out that "As foreign cultures are concerned, the exclusivism policy is wrong. We should draw on what is progressive in foreign culture to the best of our abilities, so as to facilitate our efforts to develop the new culture of China." Premier Zhou Enlai vividly assimilated culture as a wing of diplomacy. In June 1949, when New China remained nurtured in the flames of war, the Communist Party of China (CPC) selected and dispatched a group of young artists from the Liberated Areas, including Guo Lanying and Sun Weishi, to attend the World Festival of Youth and Students for Peace and Friendship in Hungary.
Milestone events:
1. In 1951, China and Poland signed an inter-governmental cultural partnership agreement. It was the first agreement for cultural cooperation between New China and foreign governments, marking that New China officially kicked off cultural exchanges with foreign countries.
2. In 1955, at the Asian-African Conference, Premier Zhou Enlai clearly put forward that "In cultural exchanges, we should respect national cultures of all countries, rather than diminishing the merits and strengths of any country, so as to learn from each other." It expressed the sincere wishes of the Chinese people to launch cultural exchanges with people of Asian and African countries under the principle of mutual respect, equality and mutual benefit.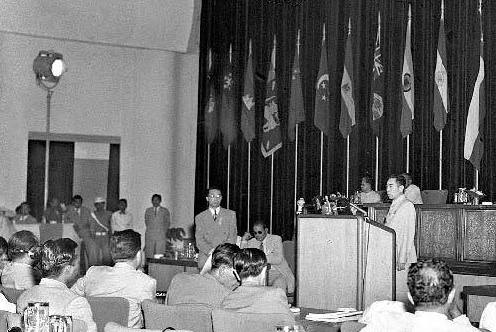 In 1955, Premier Zhou Enlai addressed the Asian-African Conference.