Overseas Cultural Trade
Overseas cultural trade has become an important wing in China's cultural exchanges with other countries.
China embarked on commercial performance exchanges in 1979. In response to demands of actual situations, it listed supporting Chinese culture industry to go global as an effective means to spread Chinese culture across the world. It set to make Chinese culture more influential through expanding cultural trade with other countries. In order to accelerate cultural trade with foreign partners, the Ministry of Culture (MOC) promulgated the Circular on Promoting Export of Cultural Products for Commercial Performance and Exhibitions, and established the Catalogue Guiding Export of Cultural Products for Commercial Performance and Exhibitions. Previously, China largely relied on acrobatics to spread Chinese arts in overseas areas. In recent years, it has promoted almost all artistic varieties, with much wider fields and channels for communication. More and more exquisite Chinese cultural products have stepped towards the international stage. To date, China has cultivated a number of influential platforms for international cultural exchanges. It has put forward a group of internationally competitive foreign-oriented cultural enterprises, with sound social and economic benefits and fresh experiences.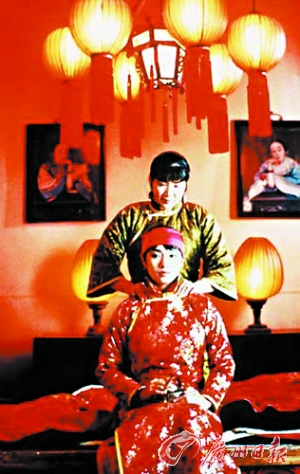 Raise the Red Lantern Stage Photo
More and more elaborated Chinese cultural works, such as Raise the Red Lantern, Wild Zebra, Farewell My Concubine, Shaolin Warriors and Dynamic Yunnan, have gone global and become new favorites on the international performance market. Swan Lake, an innovated acrobatic ballet, has been performed 189 times in foreign countries, far exceeding the 44 times in the domestic market. It earned 43 million yuan in total. By April 20, 2009, A Journey through Time and Space, an entertainment stage show, had been played for 1,420 times in the country, with 152.3 million yuan net incomes. The audiences amounted to 1.46 million, in which about 60 percent were overseas tourists. It created a high-end mode of performance attracting tourists in the native country. In 2007, China Arts and Entertainment Group alone earned 8.89 million U.S. dollars through commercial performances in overseas areas.
In 2004, MOC worked with Ministry of Commerce, General Administration of Customs, and Ministry of Finance to establish a fast lane to encourage Chinese audio and video products and enterprises to tap the world market. They set up a Special Fund for Homemade Audio and Video Products to Go Global to award the export of domestically produced audio and video products. It has vigorously supported businesses and individuals with outstanding export performances and sound credibility, and actively sped up the export of audio and video products. MOC also kicked off a program to train talents in cultural trade. It has quickened up confirmation of a national base for cultural product export. Besides, it has organized cultural industry trade missions to go abroad on business trips. It has sponsored cultural industrial seminars with EU, Japan and Republic of Korea. It has held international cultural industry exhibitions in Shenzhen.