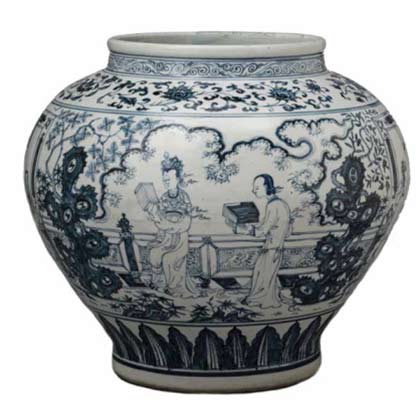 Cultural relics of the Ming Dynasty (1368-1644) to be on display in British Museum include a porcelain jar produced in Jingdezhen. Photos provided to China Daily
London will host a major exhibition of 15th-century Chineseartwork, includingpaintings, sculptures and porcelain, depicting the heyday of the Ming Dynasty (1368-1644).
The exhibition, at the British Museum, was announced on Wednesday by its initiator, Art Exhibitions China, which oversees China's international display of cultural relics.
Ming: 50 Years That Changed China, covering the half-century from 1400, will be open from Sept 18 to Jan 5.
On display will be 108 cultural relics from 10 museums in China, plus collections from the British Museum and museums in Japan, the United States and Europe.
"This was a time the political and social system of the dynasty became solidified, and the country also experienced huge change. The period is representative of that dynasty," said Yao An, deputy director of Art Exhibitions China, adding that the event will be a highlight of this year's about 20 overseas cultural relic exhibitions of China.
"China was in frequent contact with the rest of the world at that time, and its artists, artisans and scholars also influenced other cultures," Yao said.
During this time,Beijingbecame the capital of China, and the great fleets of Zheng He (1371-1433) set sail and reached the shores of eastern Africa.