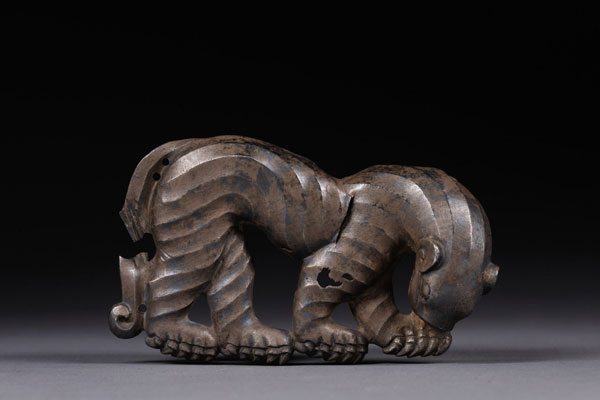 A silver tiger, found in Shenmu county, Shaanxi province, is believed to date back to between the Warring States Period (475-221 BC) and the Han Dynasty.[Photo provided to China Daily]
Valuable Chinese relics are to be exhibited in France, giving European visitors a glimpse of the rich traditions of the Han Dynasty. Lin Qi reports.
It is probably the largest exhibition of Chinese relics outside the country. Curators describe it as "an unrivaled show" as it explains why the majority of Chinese are called the Han people and why they speak the language of Han people and write Han characters. The exhibition, Han Dynasty, will open at the Musee Guimet in Paris in October, and will display about 457 artifacts that bear testimony to the dynamism of the Middle Kingdom.
The exhibition, which celebrates the 50th anniversary of the Sino-French diplomatic relations, will present a retrospective of the Han Dynasty (206 BC-AD 220), the empire that had profound and long-lasting influences on Chinese history. Antiquities, including dozens of national grade one collections, are on loan from 27 Chinese museums and cultural institutions. They provide various perspectives on the dynasty's administration system, its agriculture, its alliances with bordering countries and the start of Silk Road through which it communicated with the West.
"The exhibition will demonstrate the most complete and beautiful gems of the Han Dynasty, helping people to understand the foundation of Chinese civilization," says Sophie Makariou, director of the Musee Guimet.
"One of the highlights of the exhibition is the juxtaposition of archaeological discoveries made over the past five decades, which continue to renovate Chinese archaeology."
These breakthroughs have been largely achieved during burial excavations, with the objects found revealing the relationship between emperors and feudal princes. Terracotta warriors are some of the best examples of the imperial power, which come from the mausoleum of Liu Qi (188-141 BC), the empire's fourth emperor, which has been turned into a museum in Xi'an. Visitors will also see lamps and incense burners from the tomb of Liu Sheng (165-113 BC), son of Liu Qi and titled Prince Jing of Zhongshan.
We recommend: