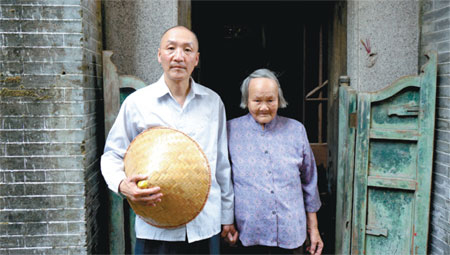 Chinese-American photographer Wing Young Huie meets his aunt during his first visit to his home village in Taishan, Guangdong province. Photos by Wing Young Huie / For China Daily
Chinese-American photographer Wing Young Huie is chasing both sides of his identity, first touring the US and most recently Guangzhou, where he talks to Xu Jingxi.
Sitting on the stairs in front of the post office next to Guangzhou Railway Station, 47-year-old migrant worker Cheng Jiping vacantly stares at the bustling square in front. He has been hungry all day.
"I heard that there are many clothing wholesale markets near the train station and I thought it would be easy to find an odd job, like a porter. But I failed," says Cheng, who is unable to rent a room and has slept in the open for several nights.
He left his poor home village in Hebei province at the age of 16 and has been to Zhengzhou and Tianjin to earn money in low-paid jobs.
"I was told that Guangzhou is a city full of job opportunities, but it seems to be no less difficult," he says.
Cheng is startled when a smiling man with a Chinese face and a camera approaches - and asks in English whether he is willing to be photographed and lend his clothes to the photographer.
He can't imagine what makes him look special to Chinese-American photographer Wing Young Huie, who wants to take off an Adidas shirt so he can wear Cheng's dirty clothes.
Through an interpreter, Huie tells Cheng that he sees in the migrant worker his father, who left a small farming village in Guangdong province a century ago for the United States in the hope for a better life.
Huie's father worked really hard to eventually open a Chinese restaurant in Duluth, a predominantly white community in Minnesota, and managed to provide his family with a middle-class life.
We Recommend: