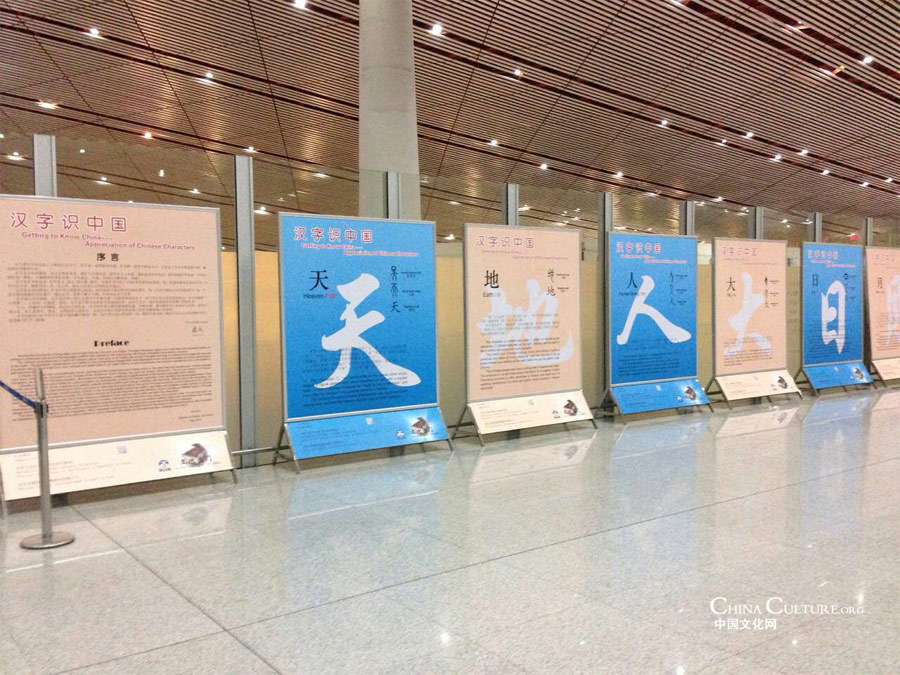 The large-scale photo exhibition "A Cultural Gate to China" was launched recently by the Bureau for External Cultural Relations of China's Ministry of Culture at the Beijing Capital International Airport (BCIA). This year's theme is "Knowing China through the Chinese characters." A brief and concise introduction to more than 60 Chinese characters full of Chinese cultural connotations will make the foreign visitors feel the extensive and profound Chinese characters and culture.
Most of the content at the exhibition was chosen from Knowing China through 100 characters, one of the books from the Knowing China series, published by the Ministry of Culture. Each character was not only introduced through its pictographic and ideographic features, but given corresponding ancient poetry. The English edition for the content was also offered. Just as Minister of Culture Cai Wu said that as the crystallization of Chinese civilization occurs, Chinese characters play an important role in the country's communication with the outside world. Each Chinese character is the seed for cultural exchange and a window through which China and the outside world can know each other.
The opening attracted many foreign visitors who were interested in Chinese culture.
"A Cultural Gate to China" is an international cultural communication brand project, launched jointly by the Ministry of Culture and BCIA. All of the pictures and objects displayed have played an active role in spreading traditional Chinese culture and promote its glamour and charm.
We Recommend: