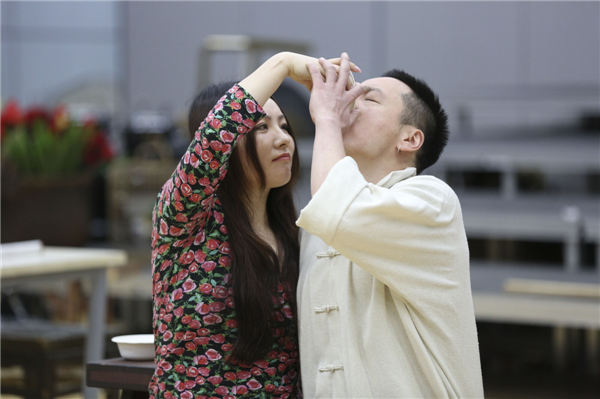 Photo by Jiang Dong/China Daily
With the ambition to write "great symphony", Guo taught himself composing and was admitted to the composition department of the Beijing-based Central Conservatory of Music in 1978, the first year students could enroll after the "cultural revolution".
Guo and his classmates including Tan Dun, Chen Qigang, Zhou Long, Chen Yi, Qu Xiaosong, Liu Suola and Xu Shuya became the first generation of Chinese composers to be recognized by Western audiences.
In 1991, the Nieuw Ensemble in Amsterdam had a concert featuring compositions by seven students from that class, including Guo's chamber music She Huo. Guo's piece impressed composer Joel Bons, who was artistic director of the Nieuw Ensemble and Ed Spanjaard, the conductor. They then decided to commission Guo to write an opera.
"It's unbelievable that they expected me to write an opera just a week after we met and played one of my small chamber pieces. They knew me better than myself," Guo recalls.
Guo's first opera Wolf Cub Village premiered in Amsterdam in 1994 and received wide acclaim throughout Europe. Ever since, he has composed operas that include Night Banquet, Feng Yi Ting, Poet Li Bai, Mu Guiying and Hua Mulan.
Guo is proud that he has written more operas than all his classmates have, and although most of the operas have been commissioned by Western organizations, he has-with the exception of a few months in New York-never lived outside China.
The composer's skills are enough to get him the respect he deserves.
IF YOU GO
The Rickshaw Boy
7:30 pm, June 25-28, National Center for the Performing Arts, west of Tian'anmen Square, Xicheng district, Beijing.
010-6655-0000.
We Recommend: