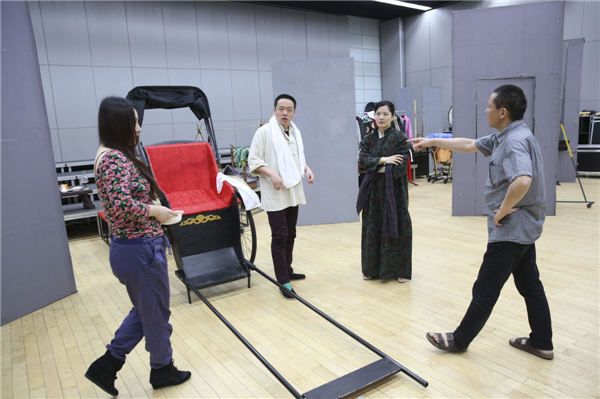 Performers rehearse The Rickshaw Boy, scheduled to premiere at the National Center for the Performing Arts on June 25.
Adapted from a classic novel of the same title by Lao She (1899-1966), the opera tells the story of Xiangzi, who lives in old Beijing and believes he can improve his life if he works hard but is unable to make it.
Guo says he had several stories in mind but never thought of Lao She's books. When the National Center for the Performing Arts commissioned him and recommended the story in 2012, he re-read the novel and realized that the dramatic plot, strong emotions, vivid personalities of the main characters and their tragic fate were all rich sources for an opera.
"I've lived in Beijing for three decades, witnessing dramatic changes every day but I don't think Beijingers have changed, even compared to Lao She's time," he says.
He views a modern day taxi driver as Xiangzi and woman as Huniu-tough on the outside but soft inside. In summer, he says, you can still see the "rude, half-naked men getting drunk in hutong", in the same way men did a century ago. All these elements of the city helped him shape the characters in his opera, Guo says.
The old capital, which in the original book was described as being "filthy, beautiful, decadent, bustling, chaotic, idle, lovable" (translated by Jean M. James 1979), is an important backdrop to the story. Previous adaptations, be it for a film, a drama or performances of Peking Opera, have all highlighted the typical Beijing flavor, from the dialect to customs.
But Guo's is an opera first, he says. The Beijing flavor is just a sauce for the big dish.
Although he had heard old Beijing ballads and folk melodies, he says a few folk songs don't make an opera. "Opera needs a wide range of arias, chorus, symphonic music, strong emotion and dramatic plot."
"The Rickshaw Boy is known for its Beijing style, but I think it depicts not only the fate of Beijingers but of all Chinese people at the time."
Born in southwestern Chongqing city in 1956, Guo started to learn the violin at 12 because his parents wanted him to stay at home instead of working in the countryside during the "cultural revolution" (1966-76). At 16, Guo's talents fetched him a position at the Chongqing Song and Dance Company.
In the mid '70s, he came across records of Rimsky-Korsakov's Scheherezade, Alexander Borodin's In the Steppes of Central Asia and Dmitry Shostakovich's Symphony No 11. Hearing the Russian composers made Guo want to compose rather than be a violinist. He even traded his handwritten violin scores with other trainee musicians for composition books by Igor Sposobin and Korsakov.
We Recommend: