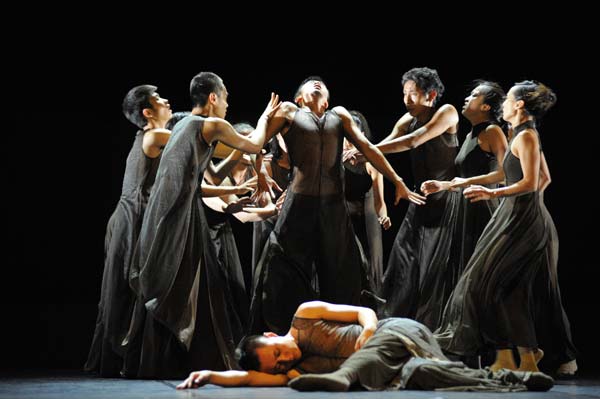 Choreographer Sang Jijia's Standing Before Darkness is to be staged in Beijing before its overseas tour. [Photo by Wang Ning / China Daily]
There is nothing to connect Sang Jijia's choreography works with his Tibetan background. Rather, his works are full of urban tensions.
"I would like people to think I am just a person. I don't want to be stereotyped," he says.
One of his works, Standing Before Darkness, is a dramatic and emotional work, which will tour with Beijing Dance/LDTX in April to perform at the Costa Rica International Arts Festival in San Jose, Costa Rica and the Dance Salad Festival in Houston in the United States. Before that tour, the dance will be presented to Beijing's audiences for a preview.
Premiered in 2010, Standing Before Darkness is the second work by Sang, 41, who was born in Gansu province and later became a dancer with the Guangdong Modern Dance Company in 1993. He joined the Hong Kong City Contemporary Dance Company in 1999.
Standing Before Darkness demonstrates his avant-garde style, in which he experimented with the psychological tension of 13 dancers and their relationship onstage.
According to Sang, the dance was born around 2009 when some of his friends' lives changed suddenly, through circumstances such as divorce and physical illness.
"I tried to express the mood changes of people, when facing up to unexpected incidents, through dance moves," he says. "The process was sophisticated and challenging. Luckily, the dancers inspired me a lot and some of the moves were decided during our rehearsal."
The award-winning dancer-choreographer was chosen to study choreography under William Forsythe in Germany. He stayed with the Ballet Frankfurt and the Forsythe Company as assistant choreographer and dancer from 2002 until 2006. Sang creates pictures to illustrate his ideas and his life abroad also broadened his vision in choreography.
"I like painting. Painting is another way for me to explore the possibilities of body language and its influence on viewers. When I lived in Germany, I painted lots of pictures about contrast of light and shadows, which I think express drama. I use the approach in my choreography of Standing Before Darkness," he says.
We Recommend: