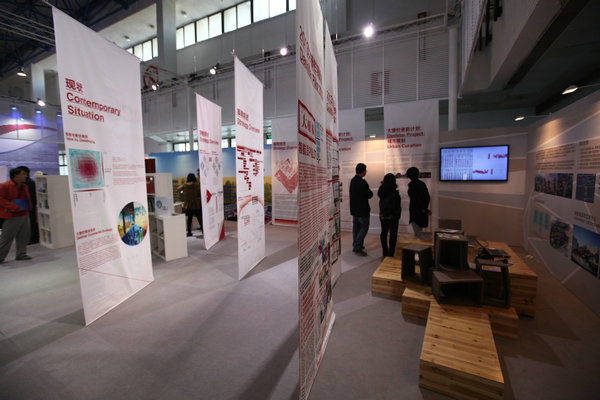 Visitors are seen in a creative industry fair in Beijing, Nov 8, 2013. (Photo by Xu Xinlei)
The National People's Congress (NPC), China's top legislature, and its advisory body, the Chinese People's Political Consultative Conference (CPPCC) are held in Beijing every March, and thousands of delegates from around the country travel to the nation's capital to attend.
The commonly known Two Sessions are of high importance both for China and the rest of the world. For the Chinese, it is a defining moment to make proposals to the central government after a careful examination of what it has achieved from the previous year, yet while in the eyes of foreigners, the two conferences, especially the government work report offered by the prime minister, indicate the direction in which China will move in the following year.
Politics and the economy dominate the 10-day discussions as they always do, yet other disturbing problems have emerged. For example, the recent nasty haze blanketing most of Northern China has angered society, resulting in a growing chorus of criticism and consequently, demand for stringent laws against environmental pollution.
This year, urgent calls can be heard about how to preserve traditional culture and develop the creative industry as the country forges ahead, economically and socially, and a closer examination of the voices can help us, at least, to gain a better insight into what is really going on in the minds of the delegates regarding Chinese culture.
"We will not raise the ticket price, because 80 percent of the visitors are ordinary people."
"We are not to raise the ticket price, but to redirect the enormous flow of visitors."
"By 2016, all offices within the palace wall will be removed, and 76 percent of the Forbidden City will be open to public."
Shan Jixiang, Director of the Palace Museum/CPPCC
"When you ask 100 people in Beijing whether they know about Picasso, I believe 90 would answer affirmatively. But when you ask New Yorkers about Qi Baishi, less than 10 may know about him. In other words, Chinese art and artists face an uphill battle to go global, and China suffers from a huge culture deficit."
"Despite the numerous TV programs in China, few focus on Chinese art in a professional manner. While BBC and other internationally known media outlets perennially broadcast art programs to push western art and artists forward before the world, and tells simple stories about western stories. "
Fan Di'an, Curator of the National Art Museum of China/CPPCC
"We Chinese people read fewer books than westerners. People even don't have the chance to read books in some poor areas."
"I hope the authorities will legislate to encourage the nation to read, so our time-honored tradition of reading books will be revived."
"The existing tax system of publications appeared 30 years ago. It needs to adapt to the modern-day practices. "
Zang Yong Qing, Editor-in-chief of Modern Press/CPPCC
"With so many Chinese art groups travelling to the Golden Hall of Vienna, it has spelled a kind of disaster. They are wasting money, and acting irresponsibly against art. It may even have a negative effect on the national image. "
Song Zuying, Singer/CPPCC
"China is an ancient civilization, and we Chinese people should have confidence in our culture. The confidence comes from a deep affection for, and understanding of, culture. Sadly, today's society is brash and fickle; few people even like to read. What will the future hold if the problem remains unchecked?"
Yao Xiaoying, President of the Anshun Literary Federation of Guizhou province/NPC
"Foreign TV and films can freely appear on our websites and appeal to young audiences. Our productions are less favored, and we expect a harder strike in the future."
"An environment for fair play is needed in order for Chinese productions to become stronger."
Zhang Guoli, Actor and Director of Meishi Film Academy of Chongqing University/CPPCC
"The Chinese TV production industry now seems too brash. There is so much money, yet few creative ideas. When we produce realistic TV dramas, we need a more open and penetrating perspective."
"China has abundant cultural resources, but has yet to become a cultural power. We still have much to do before our productions have a global presence."
Gao Mantang, Scriptwriter/CPPCC