The work on display includes Chairman Mao Cares About Us which was created in the 1970's, Chinese ink paintings on various canvases such as Plateau Auspicious Clouds-Tibet Peaceful Liberation which he made in 2009, and selections from the comic book Bang Jing Meiduo, which won a gold medal at the National Art Exhibition in the 1980's. And there's also the Chinese ink painting series created at the end of 1990's where he worked with Tibetan Chinese rice paper. The heavy colored paintings on the Tibetan canvases originated from Tibet Tangka are another highlight of the exhibition.
Han's art is filled with intellectual forays to philosophy, life, and possess a unique appreciation of beauty, which, as he has said in the past, have all benefited from the acceptance and recognition of his Tibetan compatriots, along with an immersion and nourishment of Tibetan culture. This exhibition thus serves as an achievement to both the people of Beijing and Tibet.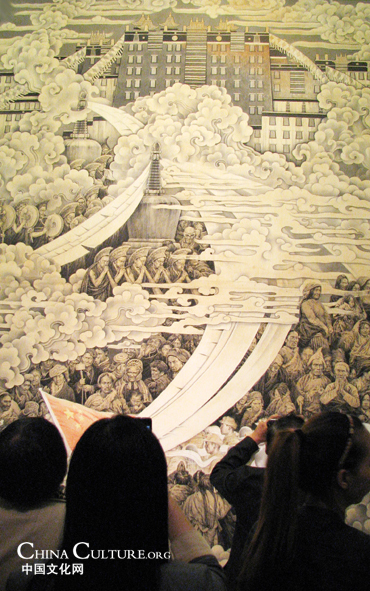 The exhibition is free to the public through October 10, and afterwards will travel to Macao and Taiwan.
"As far as his paintings are concerned, in order to express such profound content while removing mediocrity and getting rid of complexity, he also explores the perception of contexts to achieve the purity and peace of his techniques," said Yang Xianrang, a professor at the Central Academy of Fine Arts.
For Han, Tibet is the best place to create art, and to gain the nutrients needed to nourish his soul and art. Over the past years, he has turned down opportunities to work in Beijing and even Paris.
As he says, "It is not that Tibet cannot go on without me, it's just that I cannot leave the fertile soil of Tibetan culture."
Show Time: Sept. 30 - Oct. 8, 2013
Venue: Hall 1, National Art Museum of China
Museum Hours: 9:00 a.m. - 5:00 p.m. (No entry after 4:00 p.m.)
Museum Admission: Free
Address: 1 Wusi Avenue, Dongcheng District, Beijing
Tel: 86-10-64001476
 We recommend: