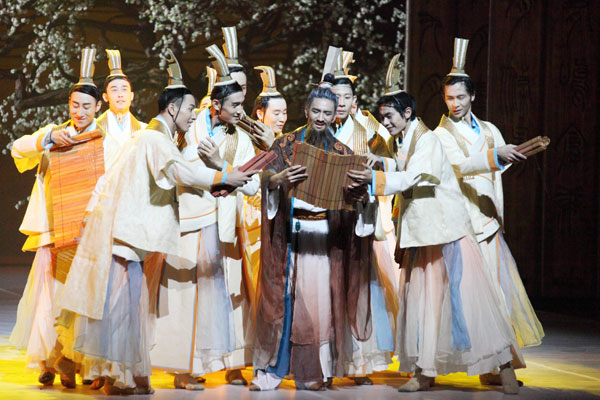 A scene from dance drama Confucius, currently staged at the National Center for the Performing Arts in Beijing, features Confucius with his students. Provided to China Daily
Nearly 2,500 years after the great Chinese sage Confucius traveled to 14 states with his students to spread his ideas, his direct descendant has written and directed a dance drama to narrate the journey.
In Confucius, staged at the National Center for the Performing Arts in Beijing on Aug 16 and 17, the director focuses on the stories Confucius encountered during his travel instead of recounting the philosophies he distilled from the experience.
In the eyes of most people, Confucius is a wise man, whose thoughts and ideas have shaped the history and culture of China. But for Kong Dexin, a 77th generation descendant of Confucius, the man is more like a family member.
"I feel very close to him. My grandfather told me his stories when I was little. His pictures are everywhere in our house. Every year, we go back to our hometown to commemorate our ancestors," says the 34-year-old Kong, who is a choreographer and director of China National Opera and Dance Drama Company.
"For me, the man is not up there," she says while pointing her finger to the ceiling. "He is a man of flesh and bones so I want him to be a real person, who laughs and cries, loves and hates."
She also says that the trip was not easy and Confucius suffered a lot, which mirrors the hardship young people go through to achieve success.
We recommend: