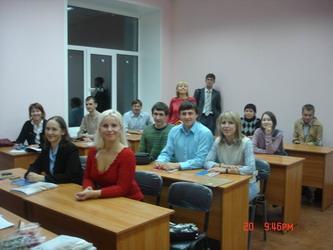 "To be fond of knowledge is better than merely to acquire it; to take delight in it is still better than merely to be fond of it," Confucius told his disciples more than 2,000 years ago.
If he had lived long enough, the Chinese sage would have been gratified to see his words being proved right again today in the language-training institutes across the globe under his name.
Prior to Chinese President Xi Jinping's visit to Russia, the fervor for learning Chinese is especially conspicuous in Russia's Far East region, as increasing cross-border trade and tourism between the two giant neighbors requires huge amount of fluent Chinese speakers.
In Russia, more than 20 Confucius Institutes and several Confucius classrooms have opened from the Far Eastern city of Vladivostok to Kazan along the Volga River, while more than 40 universities and about 20 middle and primary schools having listed Chinese as their first foreign language.
For a country stretching across Europe and Asia with 1,700 square km of land, these figures may not seem huge. However, as the saying goes, a single spark can start a prairie fire. The glamour of Chinese characters and the thousand years of history and culture they carry has fired the enthusiasm of Russia's young people.
In the eyes of Concordia Kurilova, rector of the Confucius Institute at Far Eastern Federal University in Vladivostok, the school serves as a platform for disseminating Chinese culture and promoting mutual learning, understanding and friendship between Russia and China.
As the first Confucius Institute in Russia, Kurilova said it had also set up offshoot classrooms in middle schools and primary schools across the region, attracting 4,000 registered learners in the past six years.
Meanwhile, the school maintained close cooperation with local universities and middle schools on staff training, the Chinese Proficiency Test and cultural activities, she told Xinhua.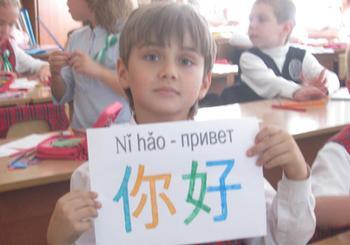 In the past six years, the seeds planted by Chinese and Russian educators budded, have blossomed and yielded fruit. More learners have discovered the delight of learning Chinese and started their journey of exploring China.
Every year, talented learners from various Russian regions take part in the Chinese Bridge contest. Top winners get the chance to compete in Beijing.
The "Chinese Bridge" Chinese Proficiency Competition, first held in 2002 by Chinese National Hanban or Confucius Institute Headquarters, was designed as a platform for foreign Chinese learners to showcase their language proficiency and cultural intimacy.
Alexander Sboyev, 22, winner of last year's contest, is one of the gifted young men fascinated by Chinese language and culture.
The fourth grade student from Far East Federal University impressed the audience with his fluent tongue twister and Chinese crosstalk performance. By imitating cartoon figures from the popular Chinese series Happy Sheep and Gray Wolf, he won the hearts and minds of all the judges.
The champion, who has visited China many times, told Xinhua he might take a scholarship to China's northeastern Heilongjiang University for further study.
"I may choose to be an interpreter after graduation to contribute to cultural exchanges between China and Russia," he said.
Paulina Karimov, a curly-haired Russian girl who speaks decent Mandarin, also holds a large "database" of Chinese quips and cranks, apothegms and aphorisms.
She once performed in the Chinese Spring Festival Gala with Dashan, a well-known Canadian proficient in Chinese. She has been to China several times and was touched by the Chinese culture "the first time she arrived there," she told Xinhua after attending the Chinese Bridge contest.
Some say the mushrooming Confucius Institutes are a push by China to build up its global allure. For more Russian young people, the school opened a door to an entire new world.
Kabirova Alina, a brilliant Russian girl in her 20s, started learning Chinese in college. She gained two Confucius Scholarships from Russian and Chinese schools and is now studying at Sichuan University in central China, majoring in Teaching Chinese as a Foreign Language.
Having accompanied several Chinese delegations as a volunteer and interpreter at major international events held recently in Russia, Alina made lots of Chinese friends.
She was even given a nickname by her Chinese colleagues: the blond girl from China. "That's true. I now live in China, and I may relocate myself to China after graduation if there are good opportunities," she grinned cheerfully.
Another choice, she said, could be to return home and teach Russian kids Chinese, which would also be a meaningful and interesting job, Alina added.
In the time of Confucius, there were few teaching materials available. Yet with his only textbook, Analects, Confucius nurtured 72 saints and was followed by 3000 disciples.
Now, with abundant materials and competent teachers from both Chinese and Russian sides, Confucius is sure to receive hundreds of thousands of more Russian students in the future.
Source:Xinhua
Editor:Jinxin