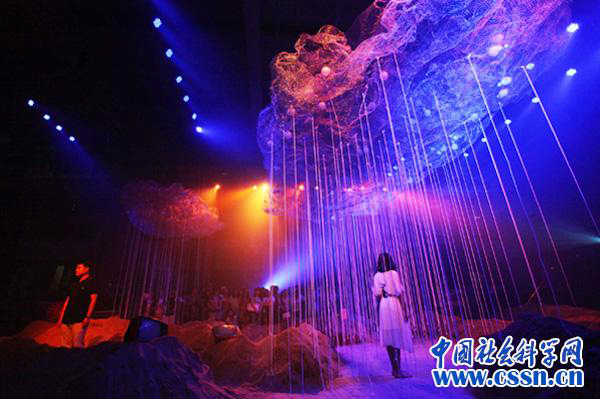 12th University Students' Drama Festival opens in Beijing.
Drama clubs may be one of the best memories you take with you from college. The 12th University Students' Drama Festival kicked off in the capital. A selection of plays from across the country are now being staged.
The stage is set at Beijing's Nine Theatre for a student onslaught. The 12 plays being performed were selected by the artistic panel from submissions from 51 universities in China.
"Ghost" combines opera and dance elements while many others, including "Girls Forbidden", tells stories of college life.
"We offer subsidies for them and also help to build connections with artists and producers, so they can have a larger scope to develop their ideas," said Xu Wei, deputy director of Chaoyang District Culture Committee.
Most participants are amateurs, many majoring in computer or architecture. But their passion for the stage is just as strong.
"I've been involved in the drama club since my first year and I find I'm making progress every year. I've gained a lot, so I'll keep going," said Wang Han from Northwest Normal University.
For college clubs, finding funds is always a headache and therefore many come to Beijing with costumes and sets as simple as possible. The lack of funding means many participants are paying for the clubs themselves.
One team from the Xinjiang Uigur Autonomous Region pulled out of the festival due to financial reasons, but two girls from the team still managed to sit for over 40 hours on a train to get to Beijing for the 12 shows.
"We want to see more and learn more by coming out. We don't want to be sitting deep in a well and only able to see the small sky above," said one of the girls, Yang Jiexin, from Yili Normal College.
The festival began in 2001 and has run every August since. Over 1,000 plays have signed up in the past 12 years, with 200 achieving their dream of performing on the Beijing stage.
With tickets costing as little as 20 yuan, the festival strives to share these stories with as many people as possible.
We recommend: