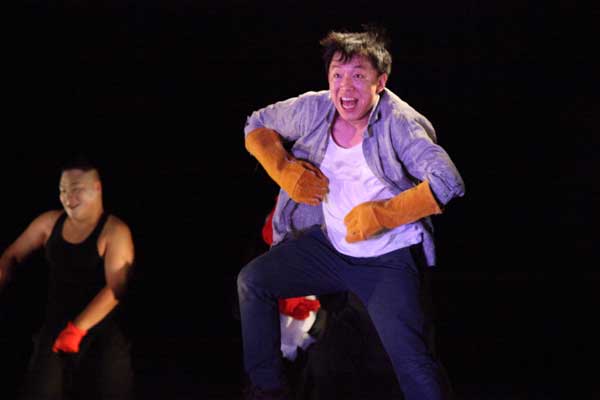 Huang Bo plays Fugui in Meng Jinghui's latest work, To Live. Photo provided to China Daily
After a highly acclaimed tour around China last year, avant-garde director Meng Jinghui's latest work To Live, featuring A-list comedian Huang Bo and award-winning film actress Yuan Quan, will make its overseas debut in Germany in early 2014.
As a key element in the year of China-Germany cultural exchange, To Live was invited to be performed at the Deutsches Theater Berlin and Thalia Theater in Hamburg, two of Germany's oldest and most influential drama houses. The play will also be featured in the Lessing Festival, in celebration of the works of German dramatist Gotthold Ephraim Lessing.
In the exchange, the National Theater of China will soon welcome two German dramas, Oedipus City by Deutsches Theater Berlin and T Schick by Thalia Theater.
As one of China's most active experimenters in stage arts during the past decade, Meng is also enjoying a growing international presence as his works are regularly invited to avant-garde drama festivals in countries such as Australia, Spain and South Korea.
He said in a recent press conference that Germany will mean even more to him as he has "deep feelings for German drama and literature". In his early career, he said, he adapted quite a few German classics such as Goethe's Faustus and Bertolt Brecht's Die Dreigroschenoper (The Three-penny Opera).
"This time it'll be more than the cultural exchanges between two countries. For the artists personally, it'll be a conversation between the souls," Meng says.
The three-hour play is adapted from globally recognized writer Yu Hua's acclaimed novel of the same name. That was made into an international award-winning film by China's leading film director, Zhang Yimou, in 1994. Though the film has never been formally released in China, it enjoys a great reputation among domestic movie fans who watched it online or on DVD.
The storyline of the drama faithfully follows the tumultuous life of Fugui, the son of a wealthy landlord who lost almost everything, including his parents, wife and a child, to the social turbulences China suffered from the late 1920s to the 1960s.
While the good-for-nothing young protagonist eventually became a symbol for the suffering of a nation, what's revealed through his fate is believed to be a human being's fight for dignity and his respect for life.
A shortage of original dramas has led many play directors to adapt novels for the stage. But descriptive literature doesn't always invite dramatization, in the opinion of drama critic Bei Xiaojing. He adds that a bright, all-star cast is often a distraction from the essence of drama. He thus had been very skeptical about the play, only to find it a feast to the eyes and heart.
"Stage designs and lighting are not just special as is Meng's usual style, but an absolute surprise. Huang Bo's performance is far beyond my expectation," he says.
"With a combination of inner narrative and story narrative, he has made the original plot, in addition to clarifying it in the first place, melt onstage. In terms of adaptation, I like the stage version even more than the movie version."
We recommend: