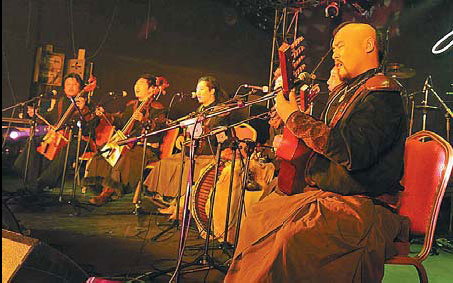 Mongolian band Yik-Ccn is dedicated to preserving traditional folk music while making it personal. Provided to China Daily
When the seven Mongolian musicians performed together for the first time in 2008 at the Forbidden City Concert Hall in Beijing, it was a temporary combination. They were performing at Mongolian themed bars in Beijing separately and were called together by a mutual friend.
The show's unexpected success not only earned money but also led to a new start. They formed a real band.
They called themselves Yik-Ccn, which combines two Mongolian words, meaning wisdom and generosity. The moment you hear their music, you are transported to scenes of vast grasslands and unbridled horses.
Musicians Mungke, Husel, Jargal, Borjigon and Davu play matouqin, or horse-head fiddles, the most important instrument of the Mongolian ethnic group. Bao Yin delivers percussion and Gard plays huobusi, a Mongolian plucked musical instrument. All the musicians from the grasslands are masters of khoomei, throat singing, and long chanting, techniques indigenous to Mongolia.
Bao, 37, says the group is determined to preserve traditional folk music while making it personal.
Ode to Genghis Khan, an ancient song dedicated to history's greatest Mongolian and performed at court ceremonies, has been adapted by the band into a modern, vibrant song.
The Sent Kiss, a love song from the Qing Dynasty (1644-1911), is interpreted with lightheartedness and a sense of humor.
After touring the country and performing abroad since 2008, the band released its debut album, Yik-Ccn, recently in Beijing. It contains nine Mongolian folk songs.
While touring in Europe, a show in 2012 at Hamburg, Germany gave them great confidence and stimulated them to release the album.
The show took place on a huge caravan outdoors. They performed seven songs for more than 1,000 people, who applauded so warmly for more songs that the next performer couldn't start.
This month, they will tour France and Italy with the new album, then return to perform in China.
Before Yik-Ccn, Mongolian bands such as Haya and Hanggai have won international acclaim for their exploration of their Mongolian heritage and self-expression. How to set themselves apart from other bands was an issue for Yik-Ccn at the beginning.
Unlike the other members, Bao doesn't play a traditional Mongolian instrument but can pound rhythms from anything, from a chair to his thighs.
He blends salsa and samba into the musical arrangement.
"The Mongolian nomadic tradition has long been preserved, which allows the people to learn new things while traveling to a different place. It's the same thing for me to study abroad, absorbing different culture," says Bao, who had studied percussion in Japan for eight years.
When they get together, they speak and sing in Mongolian. They go back to their hometowns regularly, listening to the old people's folk stories and singing to seek roots for their music.
But each song gets a new interpretation.
"We've been searching for our own voices to tell stories through those ancient Mongolian songs," says Borjigon, 30.
chennan@chinadaily.com.cn
We recommend: