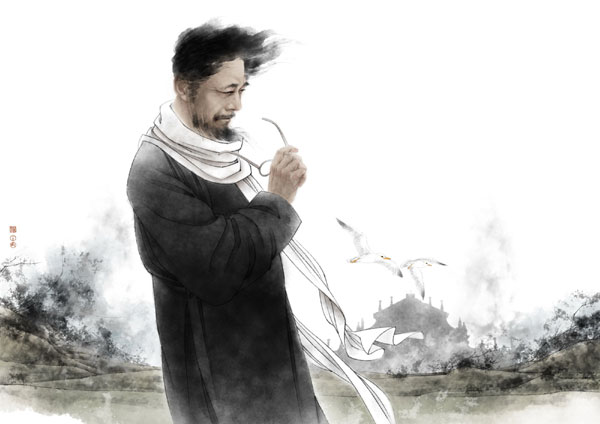 Song of Seven Sons byartist Zhang Wang is displayed at The Venetian inMacao, as apart of A Very Different Macao exhibition.[Photo provided toChina Daily]
In the famous poem Song of Seven Sons, which was written by Chinese poet and scholar Wen Yiduo (1899-1946) in 1925, Macao was described as one of the seven places along China's coast ceded to foreign powers, and the poem expresses how the Chinese people longed for their return to the
motherland. More than 70 years later, Wen's poem became the lyrics for the song welcoming the return of Macao to the mainland in 1999. Now, it has become a piece of traditional Chinese
painting
by artist Zhang Wang with the same title.
In the black-and-white ink painting, Wen stands on the seashore, taking off his trademark glasses and staring into the distance.
The work will be displayed at The Venetian in Macao until Aug 8 as a part of A Very Different Macao, a touring exhibition to celebrate the 15th anniversary of the handover of Macao to China and the enormous changes that followed.
The exhibition will also display some 110 artworks on Macao from around 100 artists, bringing together a selection of paintings that includes work done using oil, watercolor as well as digital art, showcasing Macao's scenery, contemporary architecture, religion, culture and well-known personalities.
"I've been to Macao as a tourist many times but this time, when I was commissioned to paint the place, Wen's poem was the first thing that came to my mind," says Zhang, who is an associate professor at the Art Design Department of School of Literature in Nankai University,Tianjin. "The place has gone through drastic changes, but what I enjoy most is still its history and local culture."