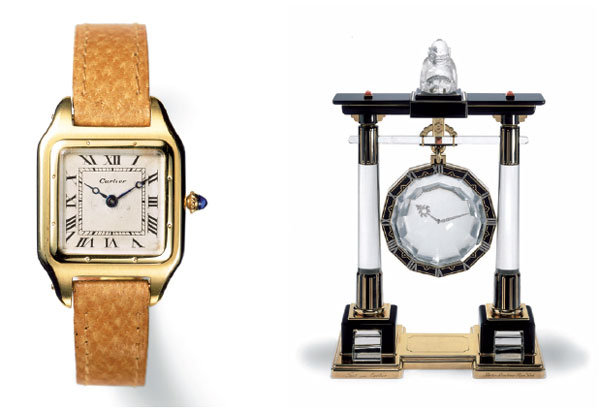 The Santos-Dumont wristwatch (left) made by Cartier Paris in 1912 and large 'Portique' Mystery Clock made by Cartier Paris in 1923. Photos Provided to China Daily
An ongoing exhibition at the Power Station of Art in Shanghai demonstrates luxury watchmaker Cartier's artistry and craftsmanship in timekeeping over its more than a hundred years of history.
Cartier Time Art, in its first showing in China, opened on July 19 and will last to Oct 12.
The exhibition was first held at the Museum Bellerive in Zurich, Switzerland in early 2011 and traveled to Singapore's Art Science Museum at the end of 2011. China is the third country to have Cartier Time Art.
"When we look into the universe, we are looking at its past. This is the world we perceive as allowed by time. What do we see then when we are looking at a timepiece? The Cartier Time Art exhibition will help reveal the mystery," said Gong Yan, director of Power Station of Art (PSA).
More than 180 timepieces will be presented in the PSA including 151 historic pieces from the Cartier Collection and the concept timepieces ID One and ID Two. The oldest timepiece on display is a chatelaine watch that dates back to 1874. A bridge connecting French art and culture with the other parts of the world, the Cartier Collection has been presented at 27 famed institutions including the Metropolitan Museum of Art in New York, the British Museum in London and the Grand Palais in Paris.
In the past decade, the Cartier Collection was shown in the Shanghai Museum, the Palace Museum in Beijing, the National Palace Museum in Taipei and Liaoning Provincial Museum.