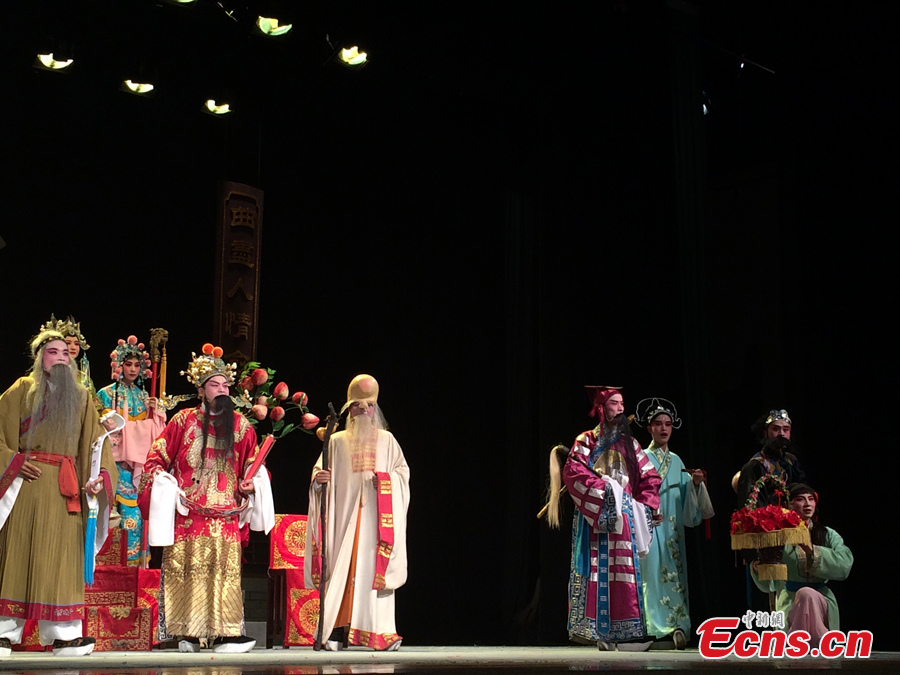 Mulian Opera, China's oldest theatric genre which dates back to the Tang Dynasty (618-907), is put back on stage in Shaoxing, Zhejiang province, June 8, 2014. Recognized as the 'living fossil of Chinese theater,' the genre has been rarely performed since the 1950s. [Photo: Chinanews.com/Zhang Jun]
Mulian Opera originated in Yiyang county in south China's Jiangxi province and is known as one of the most famous religious dramas with a broad repertoire. Mulian Opera got its name from the play Mulian Rescues His Mother, a story that is rooted in Buddhist scriptures.
Mulian Opera is one of the oldest Chinese operas noted in historical documents. It dates back to the Tang Dynasty and is closely related to ancient society life. The opera refers to a series of plays about how the lead character Mulian rescues his mother from Hell. Legend has it that Fu Xiang's family was Buddhist. After Fu Xiang died, his wife broke religious taboos by killing animals and eating meat. After his wife died, she was sent to Hell for her sins. Fu Xiang's son Fu Luobo, or Mulian, his Buddhist name, went West to ask Buddha for help. The Buddha gave him a copy of a sutra and an iron club. Mulian traveled to Hell, experiencing countless hardships, and persuaded his mother to abandon her evil ways. She did, and the whole family was reunited.
The opera became popular in Anhui, Jiangxi, Jiangsu and Zhejiang provinces during the Ming Dynasty (1368-1644). For hundreds of years, Mulian Opera has enjoyed great popularity mainly due to its special features. It is said that in the past a play could be staged all night for nine consecutive days.
We Recommend: