China has been dubbed the "kingdom of fans" for many years. Fans were not always tools for cooling oneself, but also were symbols of status and taste. One main reason is that fans sometimes were decorated with paintings, poems or calligraphy.
There were many kinds of fans in ancient China, though only two types with paintings, the Tuanshan (round fan), popular in the Han Dynasty (206 BC-AD 220) and Zheshan (folding fan), prevalent in the Song Dynasty (960-1279), have grown to be truly appreciated by art collectors. Those that held a famous artist's painting or calligraphy were highly prized possessions.
An artist from the Ming Dynasty (1368-1644) named Zhu Yunming once compared the difficulty of painting on the surface of a fan to a girl dancing on debris, because of the fan surface's limited space, special shape and different textures, such as colored paper, thin silk and so forth.
Now let's take a closer look at some of the prettiest Chinese fan paintings and feel a cool breeze in the scorching summer.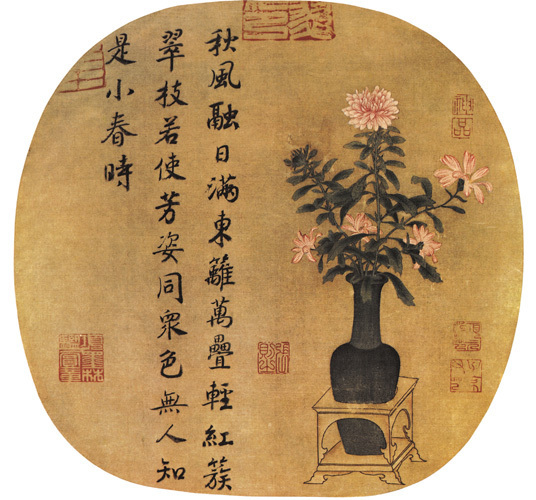 Fan painting by Yao Yuehua,Flowers in the Vase, Song Dynasty (960-1279). The birth of the round fan was much earlier than those of the folding variety. Its shape, like a full moon, signifies the auspicious union and happiness. [Photo/yourart.cn]
We recommend: