Q:Welcome to our Big Talk program on China Daily. Today, we invite Guozhen, a painter living in America. Today she will share with us the relation between artistic creation and life experiences. Mrs. Guo, hello, welcome.
A:Hello!
Q: As we know you will launch your first auction at Sotheby in late May this year in Beijing, and would please talk about the works available at the auction?
A: Ok, this is the first time for me to attend the Beijing Sotheby auction, and I have two works, one of which is about children, belonging to the same series as the one in Hong Kong Sotheby auction last time. And the other one was created recently about parents. And I am really glad to attend the Beijing Sotheby auction for the first time.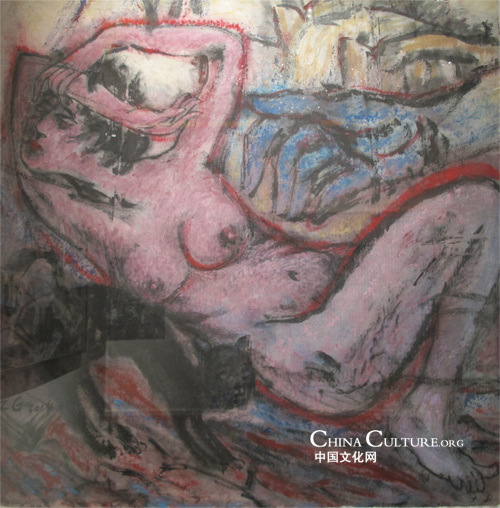 Guo Zhen's work is shown at the preview of Sotheby's (Beijing) Auction  in June [Photo/chinaculture.org]
Q: What were you thinking when you created these two paintings?
A: The first one was created in the 1980s. It was about the flourishing development in China since the policy of Reform and Opening-up, and all of these are reflected on the children. I also made some innovation in forms, for example, children don't look at things from an overall situation. So my idea was kind of innovative at the time. The second one contains many stories. It seems that there is only one woman lying there, with a cat beside her, it's the description of life. But in fact, the background, such as the blue part, can form sharp contrast. We can also see Van Gogh's bed in this picture, which also appeared in his work Bedroom. As we know, Van Gogh never had a wife throughout his life. The woman has always been a heated topic, and there are many stories about women from ancient times till now. So I wondered what such a great figure as Van Gogh would like if he had a lover? This picture looks very simple, but if you appreciate it slowly, you'll experience many stories. And on this picture, half of the woman's face was dark, and the other part was bright, so there are some connotations here.
Q: We can experience different things from different angles. As we may notice that the bottom colors in most of your works are colorless. But we can know that children are usually painted colorful in your works including Children's Sight and this year's work, so in your opinion, which color can stand for children?
A: Because I focused on the children, and others are just subsidiary. Also gray -white background is also the feature of wash paintings. By this, we can connect this to our traditional paintings so that the Asian people will not fell too much mismatch. I gave the children color because I focused on them. I paid much attention to women and children because they are the weakest in society. Apart from this reason, I painted them with color because that features my theme.