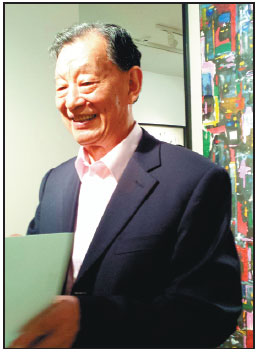 Poet Yan Zhen finds Chinese ink-and-water painting a new way to express himself. Liu Xiangrui / China Daily
For Yan Zhen, colors and forms are a nonverbal way for poetic expression, and he has gotten comfortable switching between his identities as a poet and a painter.
"I just follow my heart and try to find the right language to express my feelings," says the artist, 84, at the reception for his exhibition held recently at a Beijing gallery.
Invited by John William Ashe, president of the United Nations General Assembly, Yan is going to stage a solo exhibition during the 69th General Assembly this September.
The exhibition, called China in Ink, features 18 ink paintings he created over the past few years. It's organized by Peking Peking Gallery and sponsored by the Global Sustainable Development Foundation.
Yan was recognized as one of the five outstanding young poets in the 1950s for his romantic lyrical poetry. His works include one of the longest Chinese narrative poems, Mountain Allies.
Yan has credited his passion for poetry to his childhood influence from his father, who was a primary school teacher.
While he was working in rural Anhui province in the 1950s, Yan made his first attempt at poetic writing. It was a long poem dedicated to a local farmer. However, he was not confident enough to share it publicly and kept it to himself for months.
It wasn't until he received a publication notice from a national literary magazine that he knew his wife had secretly contributed his poem to publication.
"That led me onto the way of literature," Yan recalls.
As Yan gained fame, he was even recommended to Chairman Mao Zedong by Zang Kejia, a famous poet.
Since then, he has published more than 40 poems, and some of them have been translated into foreign languages including English.
Yan began to paint in his early 40s, which, he says, was a natural step.
"I felt that I had some feelings that were more proper to express with water ink, though I had no particular thing in mind to paint about."
We Recommend: