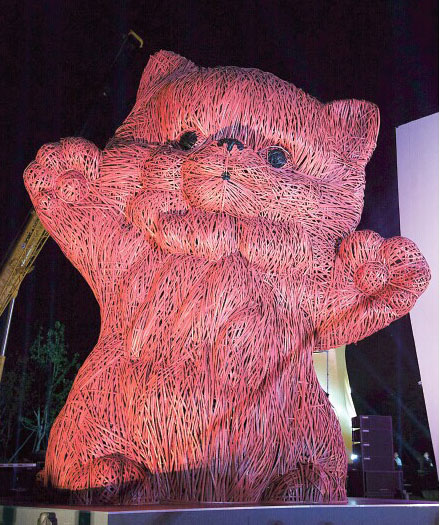 PAWS FOR THOUGHT: Florentijn Hofman's giant Pink Cat is his gift to the city ofShanghai.[Photo provided to Shanghai Star]
Good things come in small packages, but the man behind the "giant rubber duck" shows Shanghai why big can also be the cat's pajamas - and liberating, too. Zhang Kun finds out why size matters.
A 10-meter tall pink cat stands on the grass at Century Park. This is Dutch artist Florentijn Hofman's gift to the city of Shanghai.
The 37-year-old artist is best known in China for creating the big rubber duck, which has fl oated on Hong Kong's Victoria Harbor, Kunming Lake by the Summer Palace in Beijing, and now southwestern China's Chongqing.
The launch of Hofman's giant pink kitten marks the opening of Shanghai Design Week, from May 31 to Jun 16 at Century Park in Pudong. The art and design show is hosted by Arty magazine, with main sponsorship from Cadillac.
In addition to Hofman's sculpture, five Chinese artists are presenting their installations and sculptures at the show. A series of continuing exhibitions on the theme of "Art For All" will kick o8 at 10 galleries in town after Shanghai Design Week.
The giant cat is built of bamboo, a very Chinese material. Hofman likes to work with local materials as a means of connecting with the local community.
"It's my personal approach," says the artist. He was involved throughout the construction process and present at the inauguration. "So people don't have to read in a book about what it means."
Art can be difficult to understand, but that's not what he wants.
"I invite audiences to explore," he says. The quantity, the amount of material he uses, together with the amount of e8 ort and labor involved in the realization of his work, is important because "I want to kidnap the audience, grab them and suck them in", Hofman says.
We recommend: