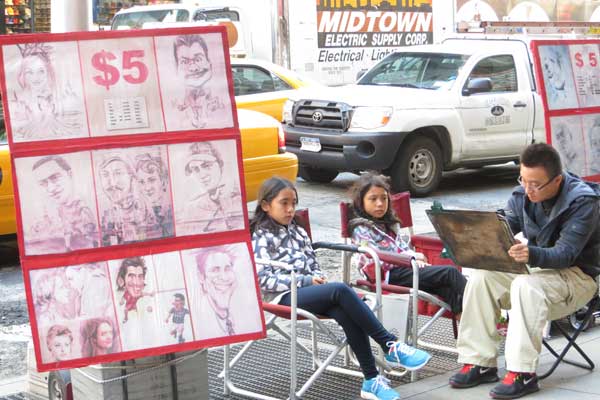 A Chinese street artist draws a 30-minute "quick sketch" for two young girls on Broadway at New York's Times Square. [Caroline Berg/China Daily]
Sketching a way of life for migrants in New York
Every morning around 8 am, Zhao Xiaopeng sets up his easels and unfolds a portable stool and chairs on a sidewalk in Times Square. He warms up by sketching a couple of drawings and then waits for customers. Some days may bring seven or eight clients, other days he'll pack up at 7 pm without making a penny.
"My life is very much a routine," the 35-year-old street artist said. "After work, I go home, eat, shower, sleep, finish one day. The next day is the same, and so is the next. It never ends — I'm like a zombie."
Before Zhao immigrated to New York with his parents and older brother in 2008, he was a screen designer fluent in software such as Adobe Photoshop, Adobe FreeHand and Illustrator. For five years now, he has spent every fine day drawing caricatures and sketches for tourists.
Zhao estimates there are 100 more street sketch artists like him, pitched on sidewalks in Times Square or on quieter avenues in Central Park. Although business varies from day to day, month to month and year to year — some decide to take the coldest winter months off — Zhao's monthly income averages between $1,500 and $2,000. That is about twice his monthly rent, for an apartment he shares with his street artist father and stay-at-home mother.
Without any prior roots to the US and limited English abilities, Zhao sees his job options as limited. After arriving in New York, he spent some time with a "foreign" company, but due to communication issues and other factors, Zhao was out of the company before the end of the year. If not doing street art, Zhao said, he could wash dishes in a restaurant or work in construction. He chuckled and sighed.
An older artist, who works in Central Park and has been at his profession since he arrived in New York a few decades ago, said he has no idea how many street artists there are in the city. He said when he first arrived, it was a smaller, more skilled group, but a recent influx of Chinese immigrants has increased the pool and created greater disparity between quality and amateur artists.
Zhao said he is more skilled at caricatures but still struggles with more realistic sketches. A "quick sketch," for which he charges a flexible $15, can take him 20-30 minutes, and a $60 professional sketch takes him one to two hours to complete.
"Although my prices are listed, it's not typically what I end up charging," Zhao said. "Generally, we street artists are flexible and we'll lower the price if we're not satisfied with the quality."
Zhao said he tries to counter the bad stereotypes many have of Chinese people, such as the notion that they try to trick customers into paying too much for something of poor quality. He said he values his customer relationships because sometimes people return.
He told a story about a customer last year who was visiting from Washington, DC, with his daughter. Twenty minutes before Zhao planned to pack up for the day, the tourist asked Zhao if he could sketch his daughter before the pair headed back home the next morning.
"I tried to draw a quick sketch, but I was not satisfied with the result, and I could tell the man was unimpressed," Zhao said. "He didn't say anything when I gave him the drawing, and I thought to myself, 'Aiya, this doesn't look like his daughter.' "
Frustrated, the artist told the customer not to pay him, but instead to take a picture of his daughter and give Zhao his DC address. The artist promised he would draw a better picture and send it to them, which he did. Zhao promptly received payment in the mail.
"To this day, we still keep in touch," Zhao said. "I try to help create a positive image of Chinese people through my work, bit by bit through how I conduct myself."
As for the police, Zhao also tries to please, but still finds himself in regular trouble.
"The police, as part of their routine, will occasionally come over and say, 'You're not allowed to do business here,' so I'll pack up and leave. But once they leave, I'll return to my spot and set my business back up," Zhao said and gave a small, mischievous smile.
Zhao said he usually receives two to three citations a month, which usually require him to pay a fine.
"Every month, the first few days and then the last few days, the police will be out writing citations," the artist said. "I heard my friend say the police must submit a certain amount of citations every month."
Another Times Square street artist, who declined to give his name, said when he first started his business six years ago, the police ticketed him regularly.
"That was because I didn't understand the rules in America," the 53-year-old from Dalian, Liaoning province, said. "I didn't want to break the law, but I had no idea what was legal and what was illegal."
The artist said the police always ended up dismissing his tickets and eventually he figured out the system. He said he hasn't had a ticket for two years straight.
We recommend: