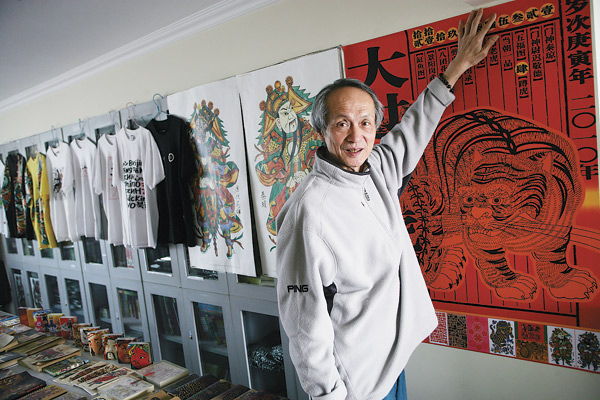 He shows handicraft-related productions at Echo's Beijing office. Guan Xin / China Daily
His publication on Chinese folk culture and arts won Time magazine's "Best of Asia" award. He is also the person who categorized and named the Chinese knot, among others. Sun Yuanqing speaks to Huang Yung-sung in Ningbo, Zhejiang province about his motivation to preserve Chinese folk arts and crafts.
Huang Yung-sung is a walking testimony of how easy it is to embrace ancient wisdom.

An advocate of Chinese folk handicrafts and arts, Huang not only talks about it, he wears it and walks in it. His handmade cattail fan is always at hand.
He is often asked about the peculiarity of the plate-like shape of the fan, which he is more than delighted to explain in great detail. He will talk about the sophistication of Chinese fan-weaving and often, without even realizing it, he will have converted another ardent enthusiast.
Having traveled all over China to research, record and publish about endangered Chinese traditional handcrafts for more than 40 years, Huang has found a second home: Cicheng county in Ningbo city in East China, a place he believes to be the future headquarter of Chinese traditional handicrafts and arts.
"I have been searching for a long time. This is the place where I can truly live my belief," says 69-year-old Huang. "What we are trying to build here is a place where craftsmen, designers and manufacturers can work together, get inspired and brainstorm, to revive these crafts and benefit more people."
Huang comes to Cicheng on a monthly basis to curate art exhibitions, plan training programs and share ideas with local developers.
The six Mother's Art exhibitions are now in the fourth year. He is now busy preparing the Fathers and Brothers' Art exhibitions, scheduled for October.
"We've all become Hakkas of Cicheng," he says to his co-workers as they discuss the coming exhibition.
Huang was born in Taiwan. He is the eighth generation of Hakka (which means guest) origin, known for its tradition of migration. A well-known avant-garde photographer and director in his late 20s, Huang co-founded the magazine Echo in 1971 to promote Chinese folk culture and arts.
Combining substantial field research and innovative layout design, the magazine is considered an artwork in itself. It was selected as "Best of Asia" by Time magazine in 2006.
Huang has hundreds of books on Chinese folk culture and art under his name. He is also the person who categorized and named the Chinese knot.
We recommend: