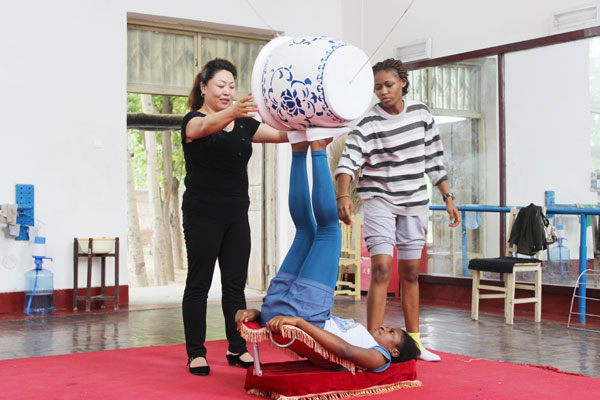 Ten African students joined an acrobatic art school in Wuqiao of Hebei province in May. Starting from scratch, they train eight to nine hours a day, six days a week with the ambitions to master the ancient art. Photo by Zheng Jinran / China Daily
African students keen to learn the skills of acrobatics have become a regular sight in Wuqiao where the physical craft has flourished for generations. Zheng Jinran finds out more about their training program.
Wuqiao in China's Hebei province has long been a center for acrobatics, attracting people from across the country eager to learn the physical craft.
Today, students also come from abroad and they include a number from Africa, with ambitions to master the ancient art.
Aye Temtope is among 10 African students who began training in the city's Wuqiao Acrobatic Art School in May.
"I never practiced it before, but I saw a performance in my hometown," says the 16-year-old from Nigeria.
That experience made a deep impression on Temtope and was the inspiration for her to seek training in Wuqiao.
However, the training has been tough, lasting eight to nine hours a day, six days a week.
"It's quite exhausting, training in the hall since I open my eyes," she says with a tired smile while massaging her aching muscles. "But it also makes me feel quite satisfied being able to perform a little from ground zero."