Cicheng is an ancient town with a rich history, but instead of attracting tourists to its picturesque streets, it hopes to lure designers with its exquisite culture of handicrafts.
It is 38 C outside. The heat in the ancient wooden house is stifling. But the crowd keeps moving from one exhibition hall to another, frequently stopping for closer observation of the work on display.
Among them is Wang Weidong, president of womenswear label Broadcast. Wang came to Cicheng near Ningbo, about two hours' drive from Shanghai, to look at the possibility of setting up a studio here, tapping into the town's handicraft resources.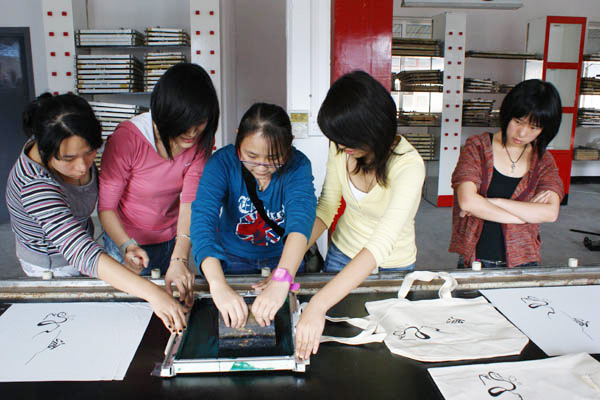 Visitors experience a traditional printing method at a DIY workshop.
"This is a place where we can actually look back into our own culture," Wang says. "Only by doing that will we be able to think independently, rather than always following others."
Wang is among his many peers who are trying to find roots in Cicheng, a 2,400-year-old town that is trying to revive itself by preserving and innovating on its tradition of handicrafts in its tailored surrounding of architectural heritage.
At a time when Chinese ancient towns like Lijiang are being choked by tourism, Cicheng is trying to walk a different path.
A woman shows her craft at one of the Mothers' Art exhibitions.
Here, craftsmen spend a decade restoring a single street, handicraft artists devote a lifetime to honing their skills and designers indulge in meditation as part of their efforts to resonate with traditional culture in their work.
"We don't preserve Cicheng just for the sake of preservation. We want to preserve it in a way that allows modern people to continue to thrive in it," says Yan Zaitian, president of the Cicheng Development Company.
Stretching over merely two square kilometers, Cicheng's architectural heritage inspired Pritzker-winning architect Wang Shu. Its restoration of ancient architecture has won the UNESCO Asia-Pacific Award for Cultural Heritage Conservation. It was praised as one of 18 "heritage heroes" by UK-broadcaster the BBC, for its preservation of its traditional handicrafts.
We recommend: